Life at Citizens
We've built our success on the simple idea that the best bank is the one that helps people bank better. That's because we also raise families, pay mortgages, and save for school. So we know what challenges our customers face, and we know how to help.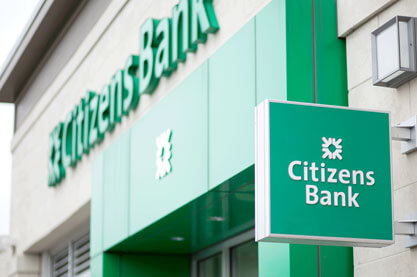 About Citizens Bank.
Citizens Financial Group, Inc. (CFG) is one of the nation's oldest and largest financial institutions, with $165.7 billion in assets as of December 31, 2019. Headquartered in Providence, Rhode Island, Citizens offers a broad range of retail and commercial banking products and services to individuals, small businesses, middle-market companies, large corporations and institutions. Citizens helps its customers reach their potential by listening to them and by understanding their needs in order to offer tailored advice, ideas and solutions. In Consumer Banking, Citizens provides an integrated experience that includes mobile and online banking, a 24/7 customer contact center and the convenience of approximately 2,900 ATMs and 1,100 branches in 11 states in the New England, Mid-Atlantic and Midwest regions. Consumer Banking products and services include a full range of banking, lending, savings, wealth management and small business offerings. In Commercial Banking, Citizens offers corporate, institutional and not-for-profit clients a full range of wholesale banking products and services, including lending and deposits, capital markets, treasury services, foreign exchange and interest rate products and asset finance. To learn more about our business, check us out At-A-Glance or visit us on Twitter, LinkedIn or Facebook.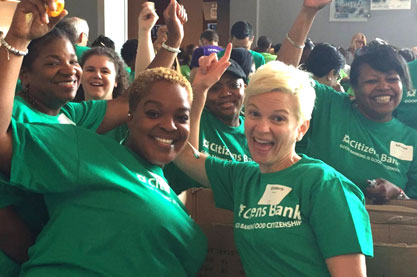 Together we're stronger.
When you join us, you'll be well-supported by everyone — from colleagues and management alike. We have a strong culture of coaching and encourage cross-departmental cooperation. We also empower you to put your ideas into action and advance your own career. If you're ready to take on new challenges and reach for more, we'll give you every opportunity to do so.
See how you can accelerate your potential with us.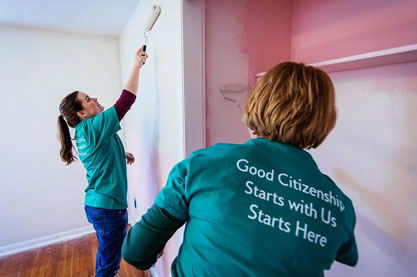 Helping our communities.
More than 140 years ago, we started with an idea: a good bank gives back to the community and the people who live there. Citizens Helping Citizens is our comprehensive program to fight hunger, teach money management and strengthen communities across our footprint.
Our colleagues also volunteered 133,588 hours last year, and we matched the charitable contributions they made to eligible nonprofits, while also supporting their volunteer efforts for the organizations and charitable causes that are meaningful to them.
Learn more about giving back