From Challenging Start to Unstoppable
At Citizens, we recognize everyone's career journey is unique. We encourage colleagues to follow their interests and curiosity to explore new opportunities within Citizens when they're ready for the next chapter. Colleagues can join virtual sessions to hear from senior leaders as they discuss open roles on their teams.
With more than 2,100 colleagues accepting new roles internally, we're committed to your career growth and development at Citizens.
As a young girl growing up in Michigan, I didn't fantasize about what I wanted to be; I was far more focused on what I didn't want to be.
I grew up in a broken home and my mother worked long hours in a factory to support us. I really didn't have anyone giving me direction or a vision of what career success looked like.
I was, however, driven to make my own way.
That drive led me to an unexpected place – enrolling in the police academy.
I was eager to get started – and finish. When I told them I was going to take 32 credits a semester, they told me it couldn't be done.
That was all I needed to hear – that I couldn't do something. I'd been told that my entire life.
I finished in record time.
But when I could only secure a part-time position after graduation, I took a full-time job with a mortgage company. I loved it and started to experience real success. After a brief period, I was promoted to branch manager and left my career in law enforcement. Eventually, I moved to Colorado for a position as a senior vice president for a community bank. In 2014, I returned back home to Michigan where I landed a job as a vice president in business banking with Citizens.
It would prove to be one of the best career moves I ever made.
When I started, I was concerned that I didn't really have business banking or credit experience, but Citizens was willing to take a chance on me. My manager did a great job of inviting me to sit in on meetings and calls and introducing me to the right people. She also encouraged me to step up and take the lead on some projects, helping me show my abilities and prove to myself that I was ready. I also worked really hard.
That would pay off.
I was able to implement initiatives to help our team improve results, and was quickly promoted to senior vice president, regional market manager. After a few years in that role, I was approached about a new opportunity: Citizens was piloting a new digital business banking program and needed a director.
I applied for the job and got it.
I was fortunate to not only have a supportive manager, but also a company that supported me in one of my greatest challenges – managing my career and my young sons. In fact, Citizens was the first place I didn't have to choose between being a good mother and a good employee.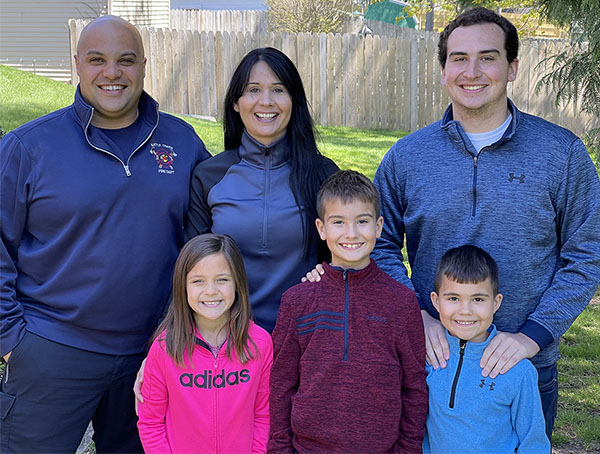 The support Citizens gave me made me want to give back to others. It's why when I interview candidates to join my team, I don't let lack of experience stop me from hiring them. I'll just work to mentor and coach them, and to help them gain the skills and training they need. That's another thing Citizens does really well as an organization – train and coach colleagues to build skills and carve out their own career paths. So if opportunities come up down the road, colleagues are in good positions to capitalize on them.
I'm very passionate about mentoring and coaching the people who work for me; maybe because I didn't have the support growing up. I think that's a manager's most important job is to give people the freedom to make their own decisions, and guide them along the way.
That approach has really worked.
I've had very low turnover in my department. In fact, some of the people who work for me have turned down higher-paying opportunities to stay. It's also gratifying to see some of them leave to take higher positions and tell me that I'm the reason they got where they are.
If you ever told me years ago that I would end up in a senior position responsible for a team of 35 people, while caring for three sons, a stepdaughter, and a husband at home, I would never have believed it.
In fact, I used to look around at successful people in the company and admire them until one day it finally hit me: I was one of them.
Still, there's more I want to do. I want to have a bigger impact helping people. Maybe someday I'll write a book to tell kids who grew up like I did that there are opportunities out there. Not only that, if you work hard and find a company that supports you, you are unstoppable.
Read more stories showcasing the unique paths our colleagues have taken to achieve career success.
Ready to find your upward path to career success?