Writing Her Own Career Story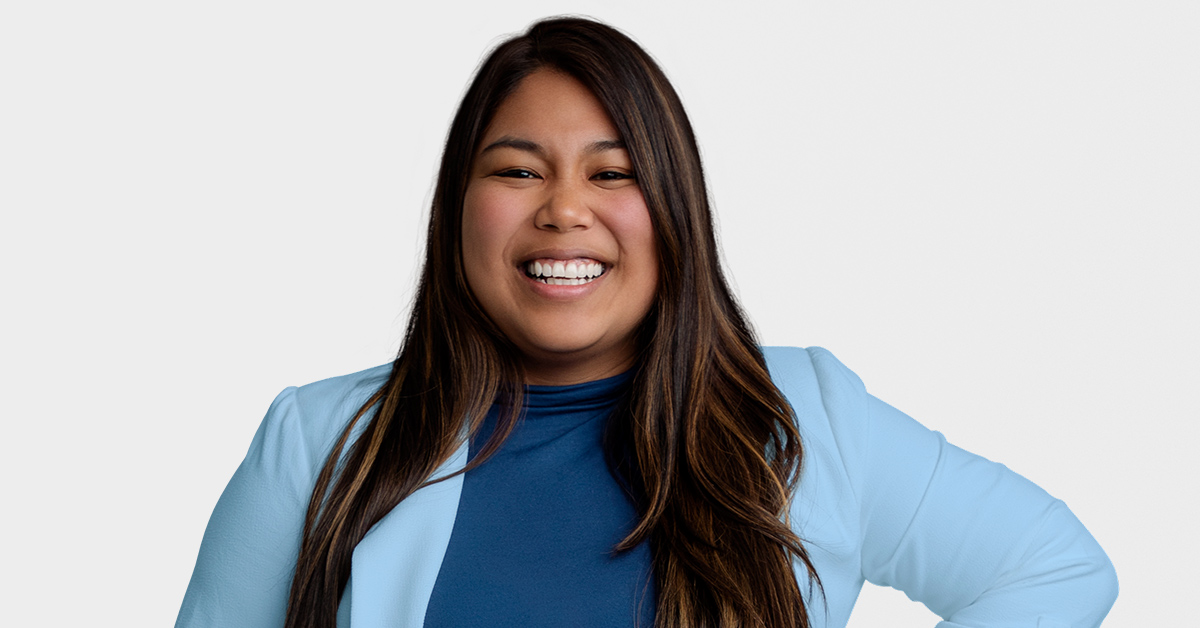 At Citizens, we recognize everyone's career journey is unique. We encourage colleagues to follow their interests and curiosity to explore new opportunities within Citizens when they're ready for the next chapter. Colleagues can join virtual sessions to hear from senior leaders as they discuss open roles on their teams.
With more than 2,100 colleagues accepting new roles internally, we're committed to your career growth and development at Citizens.
You may not know Mary.
But chances are, she may have communicated with you.
In her successful career as a copywriter, Mary's been behind many communications and social media posts for leading brands. Now, she's blending her writing prowess in a strategic role at Citizens as a digital content lead.
Given her passion for writing and marketing, it's not at all surprising that Mary has a career in digital content management. What was surprising to her, though, was where she ended up.
"I had been working for an off-price retailer for four years when a former mentor contacted me about an opportunity at Citizens. I was writing about fashion and didn't know anything about financial services."
The position, however, would give Mary a chance to meet an important career goal.
"I love writing, but I've always wanted to explore the strategic side of marketing. In my previous role, I didn't have that opportunity.
At Citizens, Mary would find the career path she wanted and invaluable support to make the transition to a different industry easier.
My managers were so helpful and supportive from the beginning, coaching me about Citizens and the voice and brand.
Mary also discovered something else different at Citizens – her career goals were a priority – not just to her.
"Every time we had a one-on-one meeting, my manager didn't just focus on the day-to-day, but on how I was feeling about my career development. She wanted to know where I saw myself going at Citizens."
Mary was also introduced to senior leaders in the marketing organization who provided invaluable support, advice, and mentorship.
I was encouraged to set up meetings to discuss my goals and explore possible career paths.
Mary was surprised by the level of support she received – from every level of the organization.
Everyone was just so open to talking to me. I tried to do that at other places and it never seemed to work out.
It would prove to be a powerful way to build relationships and advance her development at Citizens.
And, get closer to her strategic goal.
A little over a year and half since joining Citizens, she secured a position as a branch marketing partner. It was there she met another strong and supportive manager.
"She was fabulous. My development never stopped in that position. We talked a lot about the next step in my career and created a development plan to help me gain the skills I needed to move into a more strategic role."
Mary had once again found herself with an incredible advantage: having another female mentor.
"It was really important to me – not only being able to learn from such strong female leaders, but just having the opportunity to observe them. That's one of the best ways to learn."
Mary was also happy to see strong female leaders throughout the organization.
The pod I work with is nearly all females. It's great to work for a company where women have such strong voices.
After about a year as a branch marketing partner, Mary was approached by her former manager about a new opportunity – her current position as an agile copywriter creative lead.
It was the chance to finally delve into strategic marketing – and Mary was made ready.
"I get work with people all across the bank to create personalized communications that provide really good experiences for our customers."
Mary already sees more growth and development in her future.
"A lot of people don't know what they want to do or what they enjoy. I know I'm fortunate that I've always had career goals."
She also knows she's found a great place to help her grow and develop to reach them – at Citizens.
"My managers know what I enjoy and what's important to me. At Citizens, it's perfectly acceptable to have those conversations about your career and goals."
Read more stories showcasing the paths our colleagues have taken to achieve career success.
Are you looking to continue your career journey with a company made ready to support your unique career aspirations?