Meet Aaron, Branch Manager and seasoned resident of Boston's Chinatown.
"When you've been in Chinatown as long as I have, you become a familiar face," smiles Aaron, Branch Manager for Citizens Bank's Boston Chinatown branch. "I've worked or volunteered with so many people here over the years, and I've become friends with many. As I'm walking around, it's nice to see the welcoming faces of the people in this extraordinary community."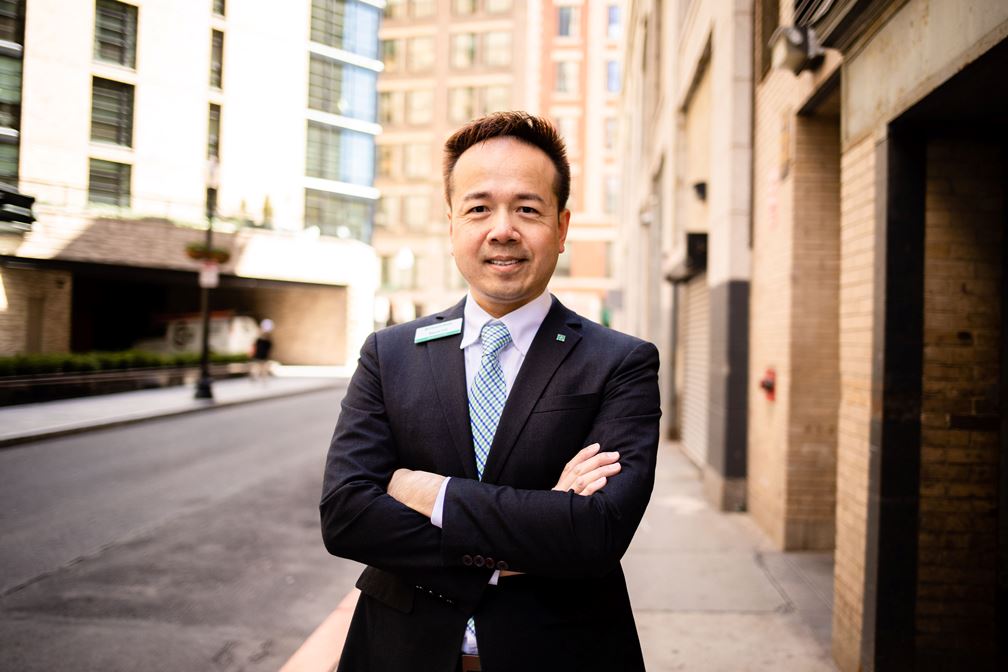 Aaron is a seasoned resident of Chinatown. He's had several jobs in the neighborhood since moving from Hong Kong 28 years ago, and consequently brings a unique outlook on conducting business in the neighborhood. "My experience working with first-generation Chinese population over the years is that trust is interpersonal," explains Aaron. "It's a cultural thing — it takes time to build trust with many in the Chinese community — so I instruct my team to take a step back and get to know their customers. Once we have established a relationship, it's easier to recommend the best banking products and services for their unique need."
Aaron feels he is able to make an impact in his role each day. "My team and I will often do business with our customers in Chinese because, if English is not their first language, they might not understand how the bank products work," mentions Aaron. "I find it so rewarding when we can educate and help them get what they deserve. It's even more gratifying when I witness one of my team members actively learning and applying their knowledge during customer interactions."
Always in a giving mindset, Aaron volunteers with several organizations within the Chinatown community, including the Chinatown Lions Club, a nonprofit that provides services for eye health and organizes community outreach projects. One of their recent initiatives was a cleanup of the streets of Chinatown. The event collaborated with the Asian Student Unions of various universities in Boston to help them learn about the importance of giving back to the community.
He also actively volunteers with the Asian American Civic Association (AACA), where he shares his wisdom about banking and financial literacy. "The AACA provides education and occupational training to limited English speaking and economically disadvantage people, such as the greater Boston immigrant community," adds Aaron. "I work closely with the group, hosting sessions with the participants to teach them about banking, interviewing and other on-the-job skills. It's fulfilling work — plus I've been able to hire some participants into roles here at the branch!"
When he's not working or volunteering, Aaron likes playing basketball and hanging out with friends. He also likes to treat his branch colleagues with team dinners from time to time at the delicious restaurants around the neighborhood. "You have to take care of your staff and treat them with respect, so that in turn they take care of your customers," concludes Aaron.
Check out some other stories of our amazing colleagues, like Aaron, to learn why they're building their careers with us.

© 2019 Citizens Financial Group, Inc.
Related Branch Manager Roles