Educational Assistance Program
Drive your career with financial help from Citizens!
Continuing your education helps colleagues to achieve their full career potential. Our Educational Assistance Program helps qualified colleagues build skills to drive their careers. The program provides reimbursement for tuition, fees and books (up to specified limits) upon successful completion of pre-approved types of study related to business needs.
What does the program offer:
Coverage for courses: Individual courses directly related to your current position and taken as part of an approved degree program.
Coverage for certificates: In addition to courses and degree programs, reimbursement is now available for certificates from accredited or approved institutions related to Citizens' business needs.
Eligibility: You must have completed only six months of Citizens employment before the start of the approved study.
What costs are covered:
We reimburse for 100% of pre-approved tuition costs and expenses, up to an annual limit as listed below, provided the colleague successfully completes the approved program.
| | | |
| --- | --- | --- |
| Colleague Status | Certificate and Undergraduate Degree Annual Limit | Graduate Degree Annual Limit |
| Full-time (scheduled 30+ hrs/week) | $5,250 | $7,000 |
| Part-time (scheduled 20-29 hrs/week) | $3,150 | $4,800 |
Colleague Testimonial:
Hear our colleague, Julie, share how this program helped her achieve more out of her career.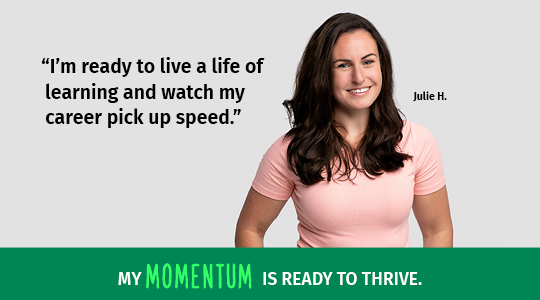 "After being promoted into my dream job at Citizens, I immediately dove into researching every aspect of the role. Knowing that I had some gaps in my knowledge and skillsets, I knew furthering my education would be a key step to becoming a well-rounded subject matter expert in the field. While juggling a full time career and being a mother of two toddlers, I was able to obtain my Master's degree online in the span of 2.5 years completely debt-free. Taking advantage of the Educational Assistance Program at Citizens was one of the best life decisions I've made, and the support and recognition that I received along my learning journey gave me the motivation to reach beyond my goals." - Julie Holmes, Employer Brand Marketing Project Manager
For more information, visit our Human Resources portal and access the site as a guest. From there, click on the Benefits tab at the top left, then scroll down to Benefits Overviews and click Educational Assistance. Lastly, click the Benefit Overview link to view the program details.
Student Lending Benefit:
Colleagues can also get our lowest rate on any of our student lending products—whether they're paying tuition now, refinancing an existing loan, or trying to pay their debt down faster.