Citizens hosts mentoring and interview prep day for individuals with disabilities.
Recruiters will tell you that one of the most important ways to succeed is to establish relationships with potential candidates. This is no different for Lauren, Campus and Diversity Recruiter at Citizens. "Relationships are absolutely imperative for strong recruiting," explains Lauren. "When I am able to establish connections with or coach my candidates—particularly those early in their career—I have much more success finding the right people for the right roles."
Aside from recruiting future and recent college graduates for the Licensed Relationship Banker Development Program, Lauren is head of our diversity recruiting pillar for individuals with disabilities. In this role, Lauren works with our Diversity Recruitment Council to find and create relationships with community organizations throughout the footprint with the goal of attracting diverse candidates to the organization.
Citizens recently hosted a mentoring and interview prep day for individuals with disabilities in the Cranston, RI corporate office. Championed by Lauren, the day brought a group of students and recent graduates from local schools and organizations in Rhode Island together with several Citizens Colleagues who volunteered for the day. Half the event was focused on mentor/mentee engagement, where students could ask their assigned professional mentor about working at Citizens and how to jumpstart their careers. The other half was devoted to a presentation by Lauren on end-to-end interview prep, covering topics like building out resumes and quantifying skills to impress employers.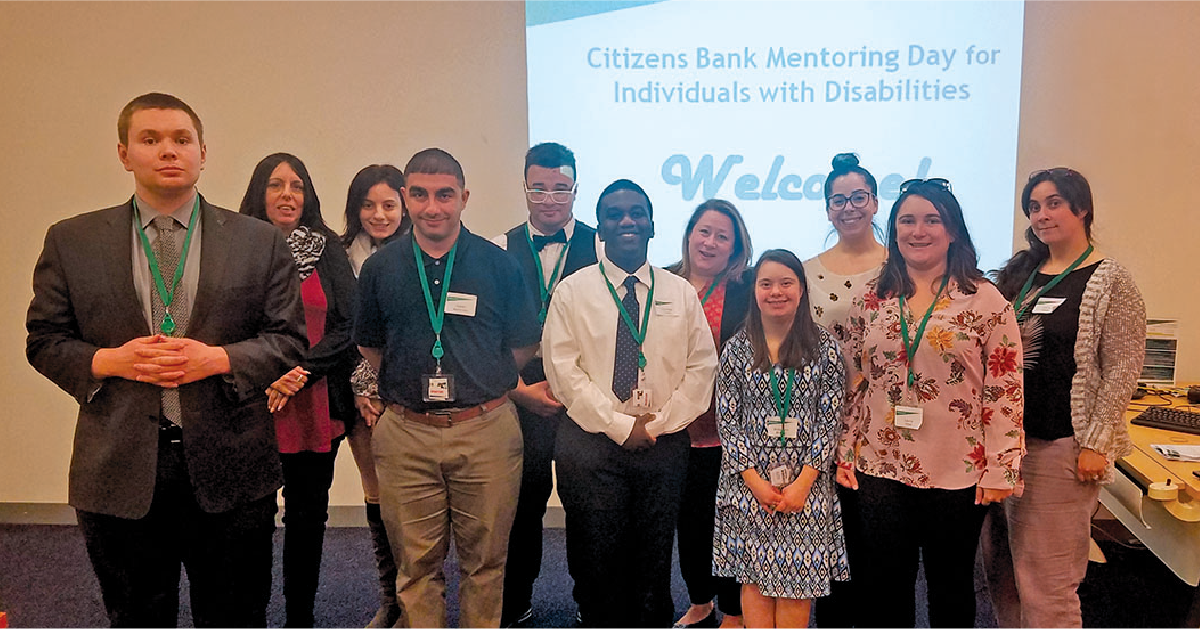 Michael, a recent Bryant University graduate, commented on the day, "My favorite part of the Citizens Bank Mentoring Day was talking with my mentor to gain advice for my career. My mentor suggested that there are an abundance of opportunities available and that I should not limit myself to one or two narrow categories when searching for job opportunities."
One of the mentors who volunteered for the day was Joe, a Customer Experience Manager who works in Cranston. "I really enjoyed working with these young adults as they prepared for their journey in the working world," Joe remarks. "The most rewarding thing for me was to see each of my mentees share their 'Elevator Speeches' that we worked on as part of our morning activity. It felt so good to hear each of them share about themselves, describe their goals in less than 2 minutes and be comfortable sharing with each other. The day was outstanding—it was very fulfilling to be a 'pebble in the pond' for someone's life experiences."
For Lauren, the day gave her a renewed sense of energy. "The students who came had such a drive and optimism about them—it was contagious!" she explains. "As a recruiter, it reinforced for me that individuals with disabilities really have so much to offer. They do not have limitations but rather unique and translatable attributes that can be applied to any number of possibilities in the workforce. It was exciting and eye-opening to watch these young adults hone and recognize their skills as they prepare to enter the workforce."
Asked about any future opportunities for the participants, Lauren notes, "I established a lot of great connections and have been staying in touch with them about upcoming jobs. My hope is that when the students are looking for full-time roles, Citizens will be top-of-mind for them because they know we are a diversity-friendly organization."
Learn more about life at Citizens and our commitment to being a diverse and inclusive workforce.

© 2018 Citizens Financial Group, Inc.