Empowering the Workforce at the Annual Meet & Greet for Students with Disabilities
For Lauren, Campus and Diversity Recruiter at Citizens, one of the most gratifying parts of recruiting is sharing guidance with candidates that ultimately helps them grow as professionals. "As a recruiter, I'm constantly interacting with my candidates, exploring where they might best fit into our organization," explains Lauren. "Even if the role isn't the right fit, my goal is to have candidates learn something new. I want them to leave feeling empowered and motivated after speaking with me."
Fortunately for Lauren, she facilitates empowering candidates on a much larger scale twice a year at the Meet & Greet for Students with Disabilities. Held biannually, the event brings together local students and individuals with disabilities for a day of mentoring, professional development and interview prep.
The event begins with coffee and donuts, welcoming both the participants and colleagues who have volunteered as mentors for the day. In order to provide an optimal learning experience, each participant is paired one on one with a colleague mentor. The mentors typically represent a variety of business areas within Citizens, such as Marketing, HR, Technology and Retail, so attendees receive exposure to a variety of professional paths.
Mentors spend time with their mentee discussing their own roles and career paths. They learn more about the mentee's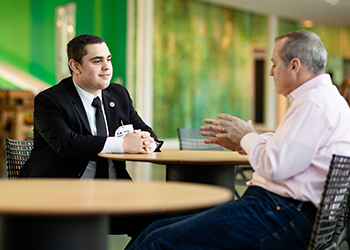 professional aspirations, and offer advice how to achieve them. Mentees are also educated about Citizens, the banking industry and how to apply their own abilities to the workforce.
"The goal of the event is to provide each mentee with an impactful exploratory experience," mentions Lauren. "We want attendees to leave with insight and inspiration as they look to identify their own unique career goals and objectives."
Michael, a recent Bryant University graduate, comments on the event, "My favorite part of the day was talking with my mentor to gain advice for my career. My mentor suggested that there are an abundance of opportunities available and that I should not limit myself to one or two narrow categories when searching for job opportunities."
One of the mentors who volunteers is Joe, a Customer Experience Manager. "I really enjoy working with these young adults
as they prepared for their journey in the working world," Joe remarks. "The most rewarding thing for me was to see my mentee share his 'Elevator Speech.' It felt so good to hear the attendees share about themselves, describe their goals in less than 2 minutes and be comfortable sharing with one another. The day was outstanding — it was very fulfilling to be a 'pebble in the pond' for someone's life experiences."
For Lauren, the day gave her a renewed sense of energy. "The students who come to this event have such a drive and optimism about them—it's contagious!" she explains. "As a recruiter, it reinforces to me that individuals with disabilities really have so much to offer. They do not have limitations but rather unique and translatable attributes that can be applied to any number of possibilities in the workforce. It was exciting and eye-opening to watch these young adults hone and recognize their skills as they prepare to enter the workforce."
Asked about any future opportunities for participants, Lauren notes, "I establish a lot of great connections at this event and I'm able to stay in touch with them about upcoming jobs. Our most recent event actually yielded a hire to our Anti Money Laundering Operations team! My hope is that we can continue making connections with these students and when they are looking for full-time roles, Citizens will be top of mind."
Learn more about life at Citizens and our commitment to being a diverse and inclusive workforce.
© 2019 Citizens Financial Group, Inc.