Kavita Brings Her Whole Self to Work
At Citizens, we celebrate the diversity of cultures, breadth of achievement, and remarkable contributions of these communities. Read on for our Q&A with Kavita Kurella, SVP, Director of Product Strategy & Merchant Services with the Commercial Bank, about the impact her Asian American and Pacific Islander (AAPI) heritage has had on her life.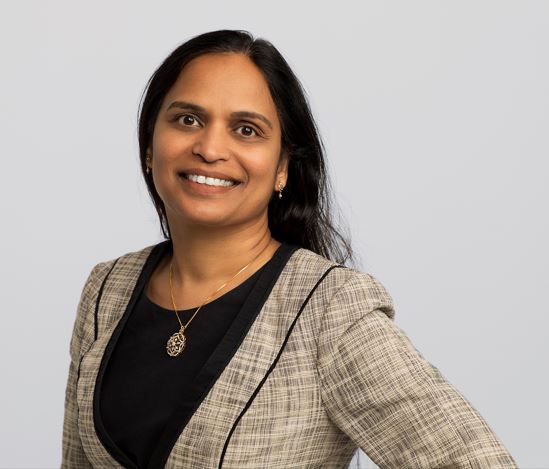 How do you identify within the Asian American and Pacific Islander community?
I was born and raised in India, one of the most culturally diverse countries in the world with over 5,000 years of history and heritage.

How has your heritage shaped the person you are today?
I grew up in a society where we were taught to respect, value, and understand the importance of various religions, traditions, rituals, languages, food, arts, and music styles from early childhood. My core values of being considerate, empathetic, inclusive, and open-minded stem from my upbringing.

What were some of your favorite family traditions growing up, and are there any that you keep to this day?
While I have been living outside of India for the past 27 years, I never forgot my roots. I cherish number of things such as wearing traditional Indian attire and Bindi (a red dot applied between the eyebrows on the forehead) at home, following the Hindu calendar, and celebrating Indian festivals and auspicious days.

Over the course of your career at Citizens you have earned two certificates and your MBA from New York University. How did manage pursuing your education while working full-time?
Pursuing education while working full-time is by no means an easy task and requires effective time management and prioritization. My passion for making an impact through business motivated me to pursue an Executive MBA from NYU Stern. I chose Stern because it offered diverse and global perspectives in all aspects of the program.
I have completed five Executive Education and Certificate courses since I graduated. In this ever-changing environment, it helps me continue to stay relevant in the market and better serve clients. In addition, these courses created opportunities for me to keep learning from peers, build industry connections, and broaden my network for life.
I'm grateful to my managers at Citizens who supported my learning ambitions. I couldn't have done it without their support and encouragement.
How did your managers support and encourage you throughout your journey?
When I was pursuing the Executive MBA application process, my then-manager encouraged my learning ambition, took time to understand my entire professional journey - not just my time at Citizens - and completed the specific paperwork and recommendation letter form that NYU prescribed.
My current manager has always been supportive and flexible in encouraging me to continue my learning goals. At times, that means I need to rearrange my work schedule to attend classes during the week.
You've been with Citizens over a decade. What might surprise others about the company?
There's a lot of encouragement to bring new and innovative ideas at all levels, stemming from executive leadership. There's also a laser-focus in bringing a differentiated value proposition and thought leadership to our clients based on market trends and dynamics.
What opportunities does Citizens provide to celebrate your AAPI heritage and learn from colleagues about their backgrounds?
Our Business Resource Groups (BRGs), give colleagues opportunities to add to and progress our culture. Our PRISM BRG focuses on multi-cultural aspects and provides several resources and holds activities and events to celebrate and share information about various heritage groups, including AAPI.

You have extensive volunteer experience across several organizations. Why is volunteering important to you?
I strongly believe in making an impact and doing my part to help make a difference in the lives of others. There are a few areas I am passionate about giving back; children, economic empowerment, education, and poverty alleviation. The organizations I volunteer with focus on one or more of these areas, and some on a global scale.
Learn more about how we ensure that our colleagues feel valued, respected and heard.