Year Up and Citizens Partner to Help Young, Urban Adults Shine
Unveiling potential within young professionals and supporting the local community are some of the core values of Citizens Bank. When the Year Up program came to Providence, RI in 2005, it was a perfect fit. Citizens became one of its initial partners in 2006. Since that time, over 74 Year Up professionals have been hired by the bank, 57 have participated in the Year Up internship program hosted by Citizens and 33 are current colleagues at the bank.
The Year Up internship program is an opportunity for young professional with a High School diploma or GED, mainly 18-24 years old, to gain both classroom training and on the job experience with various businesses in the local community. Applicants are put through a rigorous admissions process, including an assessment to reveal a candidate's drive and ambition. Year Up students train in the classroom for six months within the areas of business operations or information technology. Upon completion of the academic training, students begin the internship phase for the next six months at Citizens Bank.
In addition to the internship program, the partnership offers Year Up students an opportunity to participate in resume reviews, mock interview sessions and mentorship pairings with Citizens colleagues. Pieter Van Sciver, director of Employment Placement for Year Up Providence comments, "The Year Up partnership with Citizens Bank provides the right level of training, tools, mentorship and hands-on work experience needed to empower these young professional to kick off a professional career that is both rewarding and full of growth potential".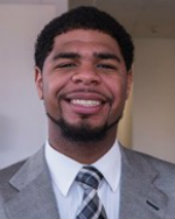 Dionis Camacho can speak first hand to the success of the Year Up and Citizens partnership. Currently a collections agent, he joined Citizens in 2015 from the Year Up program, which he credits for preparing him for the corporate environment.
"Year Up taught me proper business etiquette, customer-service skills, colleague engagement and how to work as a team to meet a specific goal, which made Citizens the right place for me", he comments. He is now able to counsel and assist customers in curing their delinquent accounts to have a positive banking relationship, while providing tips on how to keep their accounts from a negative status. His next steps include completing a college degree with a major in communications and hopefully, grow into a position in Human Resources.
Dionis and hundreds of other young professionals are proud to be part of a program like Year Up that helps young, urban adults with tremendous talent. In return, organizations like Citizens Bank are proud to help provide these young adults an opportunity to shine.
To read more about the Year Up Providence program, click here. Learn more about the exciting career paths available at Citizens Bank.
© 2016 Citizens Financial Group, Inc.