Tips for Staying Focused While Working from Home
You've heard it quite a few times now: we've entered a "new normal". We've had to rethink everything, like how we interact with friends, celebrate milestones and conduct business. For many of us, work, school and home lives have become blurred together like never before.
What will the future of jobs and the workplace look like? Only time will tell, but the reality is that many American workers will continue to work from home, at least part of the time. A casual dress code, midday strolls around the neighborhood and — yes — video conferencing may become the norm.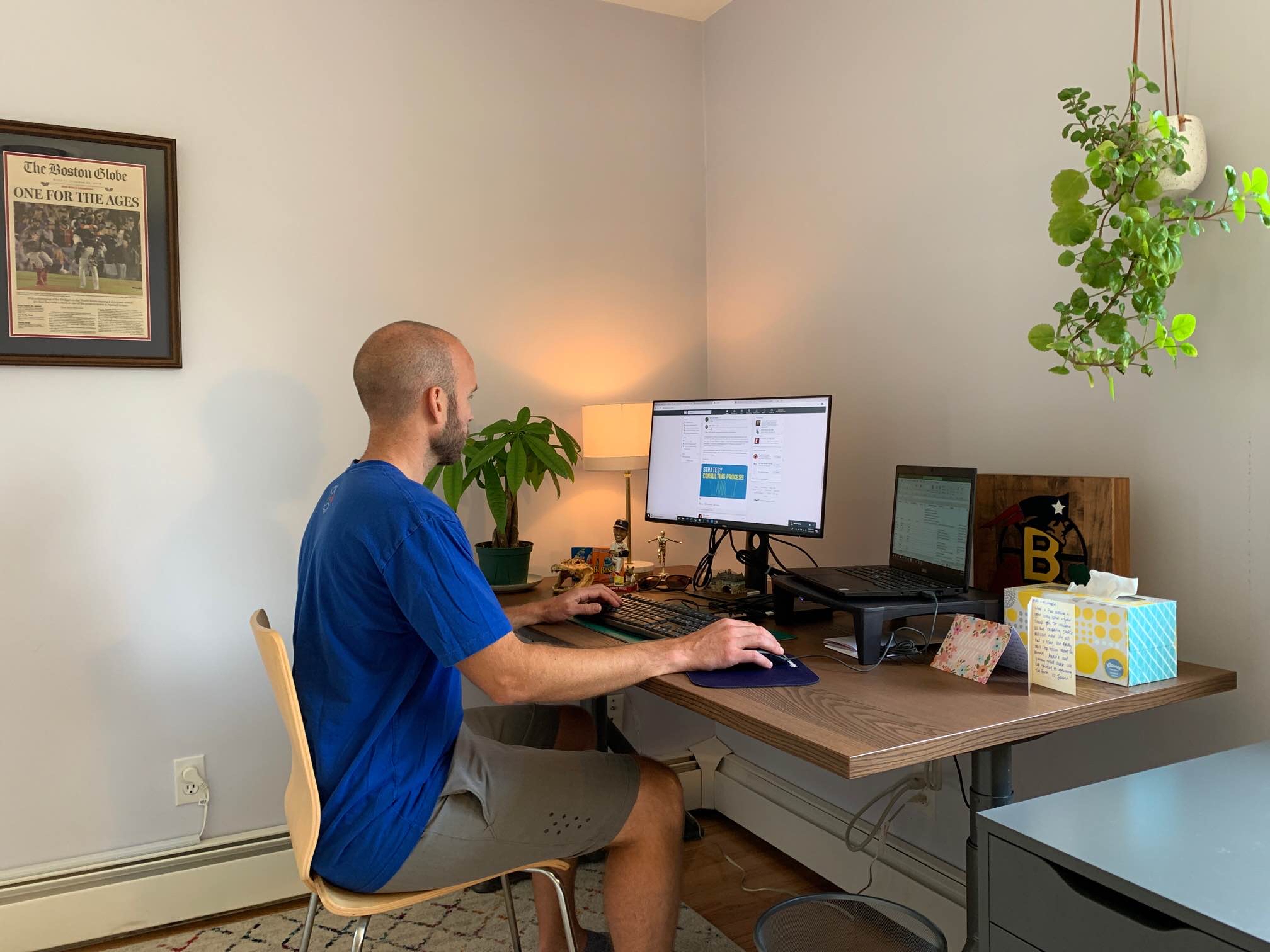 So, how do you stay focused, motivated and sane while working remotely? Citizens has tons of remote-flexible jobs, so we asked some of our colleagues how they do it. Here are the top nine they shared:
Get up and at it — Prepare for the day like you would if you were going into the office. It's easy to wind up in your athleisure wear come 1pm, but getting ready each morning and sticking to your habits helps keep you focused on the day ahead.
If you're juggling kids and family life on top of work, consider waking up a little early to knock out some tasks before everyone else wakes up. This helps reduce the stress associated with cooking breakfast, homeschool teacher or camp councilor duties, and the inevitable, occasional tantrum.
Designate a dedicated workspace — It might seem tempting to set up for the work day on the couch, but refrain! Your lower back will thank you. Instead, carve out a dedicated workspace that helps keep you in a "work" mindset. If you don't have a home office, find a spot in the living room, your bedroom, a separate room away from the main action of the household. Try to balance privacy and quiet with scenery and utility. Natural light is always a bonus!
Use a comfortable chair, and take time to set up your station ergonomically: with your monitor level with your eyes. Consider investing in an extra monitor, which can run as low as $50. Stack the essentials on or near your desk — phone and laptop charger, notebook, large glass of water, headphones for calls, a small speaker if you enjoy listening to music.
Make sure your tech is working — Each company has different work-from-home software, so direct questions about secure logins and VPNs to your manager or IT department. Iron out what applications your team uses to stay connected, such as Webex.
Of course, every great work-from-home (WFH) setup needs its trusty sidekick, a strong internet connection. If WIFI isn't cutting it, consider hooking up your computer directly to your network with an Ethernet cable. Or, consider updating your internet package. Pro tip: video conferencing takes up more bandwidth, so if your connection is choppy, turn off your video and participate with audio only.
Work on colleague relationships — One of the drawbacks of remote work is that it becomes a little bit harder to develop meaningful relationships with fellow colleagues. To combat that, invest the time to pick up the phone and call a teammate, even if what you're looking to accomplish can be done via email or chat. Don't forget to ask colleagues about their families, hobbies and life outside of work to develop a bond that transcends work.
Embrace the webcam, too. Video conferencing has become the norm during the coronavirus era, so don't let messy hair or a hoodie stop you from showing your face on video. Don't worry about distractions in the background; most other people are in similar situations. Everyone can empathize with dogs barking or kids yelling in the background.
Carve out time to do something that makes you happy — The tedium of WFH life may get you down sometimes. Spend time each day doing something that makes you happy. Read a book, go on a long walk, call a friend, do some push-ups, treat yourself to a sweet snack, sip some coffee on your porch or by the window. Invite your pet into your workspace. Break up your day by doing something you love.
Diligently manage your schedule — When your work and home life blend, it can start to feel like you're on the clock 24/7. It's important that you aggressively manage your calendar to balance your needs and other responsibilities, while not burning out. Consider allotting time on your work calendar for personal things — like family, fitness and food.
Allow time between meetings — This may seem like a no-brainer, but do your best to break up consecutive meetings. Allotting time for yourself will help keep you productive and energized throughout the day. Block out chunks of your calendar for tasks that require your energy and attention.
Stay safe and secure — With so many workers remote and the usual safeguards of working in the office no longer present, cybercriminals are jumping at the opportunity to access your company's most sensitive data. Protect yourself, your computer and your company with these 8 tips for staying secure when working from home.
Remember, you're human — You'll have off days whether you work in the office or home. There will be days when you feel discouraged, unmotivated or tired. Everyone has days like these, so do your best to not feel disheartened when they occur. Figure out what gets you out of that rut, whether it's a hot shower, a long run or a full vacation day. Prioritize your wellness, so you can be a better and more effective you.
Ready to take on a new challenge? Work at a place that prioritizes the health and wellness of its colleagues. Apply today to one of our open roles, many of which have remote-flexibility.
© 2020 Citizens Financial Group, Inc.