Diverse and Customer-Focused Talent is Key to Supporting Our Company Growth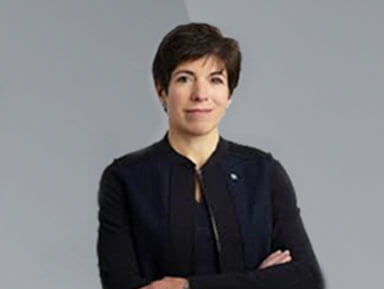 Susan LaMonica, head of human resources at Citizens Bank recently sat down with Providence Business News to talk about our top priority of building a strong team of colleagues. Building a talented workforce is key to supporting our successful growth and development.
What has Citizens been doing to develop talent since its spinoff from the Royal Bank of Scotland, and how are things at the company different than before?
Our separation from RBS has provided Citizens with more autonomy, but much of the work we're doing in this area has been underway for some time now, as part of our broader strategy to become a top- performing regional bank. Talent development plays a big role in this strategy – we have a very strong customer-focused culture at Citizens, and we need to build on that as we grow the company. Charting our own course requires strong leaders at all levels so that we can help deliver the best possible banking experience to our customers. We are developing this talent by providing training and resources to existing colleagues as well as by recruiting leaders with strong backgrounds that match our corporate culture.
What are the challenges associated with developing talent, and how do you address them?
One of the biggest challenges any organization faces is ensuring that people are in the right roles at the right time and that they have opportunities to grow with the company. This is a major focus for us this year – as we grow the company, we want to be sure we are developing talent within Citizens that can help us reach that next level. We are able to attract great talent and will continue to hire new people, but there also is tremendous value in being able to retain colleagues. With this in mind, we've recently introduced a program called myCAREER. myCAREER provides our colleagues with a wide range of resources such as career paths and tools to develop the skills they need to advance their careers with us. This is an area where we have a lot of opportunity to tap into the ambitions of our colleagues and to create more opportunities for them within Citizens.
How are you attracting new talent?
One of the benefits we've seen from going public has been our ability to attract high-quality talent. Our new CFO, Eric Aboaf, and Don McCree, our new head of commercial banking, are two obvious examples of this, but we've had similar success in recruiting talent at every level of the organization. People in the industry see Citizens as a unique place where they can really make a difference at an important time in the company's history. Aside from the interest that we've received as a byproduct of our independence, we've also recently introduced some new approaches to attracting the kinds of customer- centric colleagues we're looking for. We're evolving our recruiting approach to promote who we are and where we're going as a company. This engagement helps candidates get a more in-depth feel for the role and the company. And as we compete for talent, we want to be sure that people understand what is happening at Citizens and how they can advance their careers here. It really is an exciting time to be working at Citizens.
Citizens added 46 wealth managers in fiscal 2015. Did that meet expectations, and does it continue to be an area of focus in 2016? How about mortgage lenders?
Our ability to gain new customers and deepen relationships with our existing customers is key to our strategy for improving our overall financial performance, and we are hiring a lot of customer-facing colleagues to help us generate revenue growth. We're making good progress but we still have a lot of work to do. It's a competitive marketplace for talent right now – we are not the only company looking to attract colleagues with these skills and a commitment to delivering for customers. But we are unique in the industry in that we're a large financial services company that is looking to grow. There are not a lot of companies of our size in financial services with this kind of opportunity, so we are getting a lot of interest from financial consultants, mortgage lenders and others who want to be part of that. Citizens is a great platform for them, with a lot of upside. We also are hiring commercial lenders, branch staff and other customer-facing colleagues. Our customers depend on these colleagues to help them meet their financial goals, so it's very important to us that we bring in people who share our focus on providing the best possible customer experience.
What other areas of hiring, or developing talent, will human resources be focusing on in the coming year, and how do you expect it to benefit the company?
Given our ambition to become a top-performing regional bank, it is critically important that colleagues at every level of the company understand the big picture and the important role they play. We know that informed, engaged colleagues deliver better for our customers, so we're putting a lot of emphasis on communications. We've now hosted more than 3,000 colleagues in what we call "Let's Connect" meetings – small sessions with senior leaders focused on our strategic objectives, the progress we're making, and opportunities for us to get better. In addition to driving colleague engagement, we're finding that this is a great way for us to gauge the state of our culture and to help senior management better understand how the business is performing. Our colleagues know better than anybody if we're delivering well for our customers, and they are providing us with great insights as we look for ways to enhance the customer experience and attract more customers.
Learn more about life at Citizens Bank and the exciting new growth opportunities available.