Coast Guard to Civilian: Soumangue
After spending 12 years with the United States Coast Guard, Soumangue transitioned back to civilian life – a change that can prove difficult to even the most adaptable service member. It's a challenge faced by many veterans but one that can be made easier with the support of organizations like Citizens. Many of the unique skills veterans acquire in the military, like discipline and attention to detail, are highly transferable to our career paths.
Soumangue saw the supportive culture and collaborative colleagues at Citizens as the perfect fit to build a new career and joined us as a Senior Auditor in 2015. Today he is thriving as a Business Banking Training Engagement Manager with Citizens. Read more about his journey from back office to the front lines of banking.
Describe your experience and career development at Citizens since leaving the Coast Guard:
Coming to Citizens has exceeded my expectations. The type of work I do embodies our Credo we are Citizens helping Citizens reach their potential. If we truly empower our citizens to bank better, we will change the fiscal situation of this state, region and eventually our nation into a positive one. I know it's a bit clichéd, but Citizens' mission speaks loud and clear to me, and I'm so proud and happy to be associated with a winning organization.
After several years of being a Senior Auditor in Internal Audit, I wanted the opportunity to influence and help grow other colleagues at the bank. I transitioned into Business Banking, heading up the training program for their sales team. As a training engagement manager, I design and lead development sessions for my business banking peers, ultimately helping them acquire the skills and confidence necessary to help serve our business-owning customers.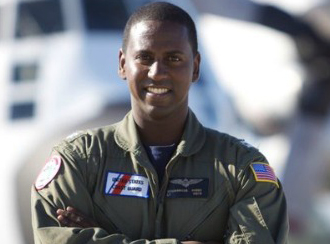 Tell us about your military experience:
I was initially a deck watch officer onboard US Coast Guard Cutter SEQUOIA, conducting Aids to Navigation, Search & Rescue, International Training and Homeland Security missions throughout the South Pacific, East Asia and the Northern Mariana Isles. After sailing the Pacific for more than two years, I became a Coast Guard C-130 Pilot , and was personally involved with Operation Unified Response for the 2010 Haiti Earthquake, Hurricane Gustav and the Deepwater Horizon spill relief. After flying for 6 years, I decided I wanted to give back in a way that would impact the entire organization, so I returned to my alma mater, the United States Coast Guard Academy, to work with the future of the United States Coast Guard for three years.
How did the Coast Guard Academy prepare you for your roles at Citizens?
The Academy and my 12-year Coast Guard experience prepared me well. First and foremost, the Coast Guard instilled in me a passion to serve the greater community and the country at large. Doing my job well means that others can do theirs well – and that helps everyone's bottom line. Second, many arduous Academy and Coast Guard career-related experiences provided me with the mental discipline, time management and organization skills to manage any project or task assigned to me. I feel prepared for each day, each task and each challenge as a result of these foundational skills.
Of course, the leadership and communication skills I was exposed to from the very first day of Swab Summer (boot camp for Coast Guard Academy cadets) placed me on a path to become a leader of character for hundreds of men and women executing Coast Guard missions to support and defend our way of life and this beautiful country that we live in.
How has our culture helped you develop a successful career?
I couldn't ask for a better set of colleagues to work for and work with. From my supervisors to my peers, everyone has been extremely helpful in supporting my transition from the military to becoming a banker. My colleagues' willingness to go out of their way to help me is genuine and refreshing. I feel confident that the professional relationships I've established at Citizens will lead to lifelong friendships.
Looking to join a supportive culture focused on investing in its colleagues? Learn more about the variety of career paths we offer.