Service Academy Career Conference (SACC) offers exceptional and diverse talent, ideal for Citizens culture.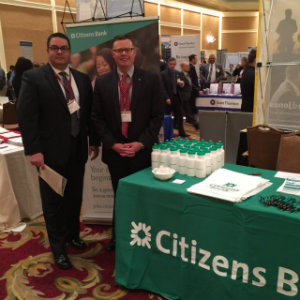 A cross-functional recruiting team comprised of leaders from Talent Acquisition, Consumer business lines, Compliance, Audit and Supply Chain Services headed for Washington, D.C. to represent Citizens Bank at the Service Academy Career Conference (SACC) May 5-6, 2016.
The SACC conference brings together over 700 alumni of the Air Force, Coast Guard, Merchant Marine, Military and Naval academies to connect with top employers from all industries. For Citizens Bank, it's an opportunity to engage directly with some of the most talented and diverse candidates in the market − our service veterans.
Brad, a senior project manager at Citizens' Consumer Banking, describes some of the competitive advantages of hiring military alumni, commenting, "Service academy graduates are able to hit the ground running and add value quickly. Due to extensive experience in leading and managing diverse teams, academy grads are able to immediately work with teams and various stakeholders to solve problems and progress action plans."
Following last year's event and over 30 interviews, Citizens welcomed new hires Soumangue and Cris to the Audit, Risk and Finance Governance team as senior auditors.
Alumni first submit their resume before an online database is opened up to prospective employers. The Citizens recruiting team reviews the resumes, looking at experience, areas of interest and geography to identify potential candidates to interview. Once candidates confirm their interest in Citizens Bank, the recruiting team schedules onsite interviews during SACC, which totaled over 20 this year.
Before heading into their interview, candidates were greeted by recruiting representatives Paul, sourcer, Dan, senior recruiter and Steve, head of Talent Acquisition Services, to check in and learn more about potential career paths and life at Citizens Bank.
What's unique about this event is that resume reviews and interviews are conducted by both recruiting colleagues as well as fellow military academy alumni. The Citizens team included: Brad (USNA), Soumangue (USCG), senior auditor in Audit, Dennis (US Army), group manager in Deposit Operations, Chris (USNA), senior auditor in Audit, Michael "Ryan" (USMC), senior analyst in Supply Chain Services and Chris (USNA), director in AML Compliance.
"As fellow service academy alumni, we offer a few guiding words after the interviews related to career development or interviewing since we have each experienced the transition from military to civilian life. Helping the candidates understand how their military experience translates into the world of banking is key to both our understanding of the candidate's resume and their successful move to private industry," adds Chris from AML Compliance.
When they return to the office, the recruiting event team quickly reviews the candidates and interview scoring to determine where candidates would best fit in before extending job offers. "We know that hiring diverse talent like SACC candidates improves our performance, strengthens our reputation and gives us a competitive edge. We have to act quickly to secure this type of exceptional talent," adds Steve.

Read more about our commitment to building a diverse workforce that models the communities where we do business.