From poverty-stricken Guyana to successful senior personal banker at Citizens Bank.
Adapted from an article by Len Lear in Chestnut Hill Local and reprinted with permission. Lear, a veteran newsman, notes: "My wife and I have had accounts with Citizens Bank since the day it opened [here], and I had accounts with its predecessors starting 70 years ago - maybe longer than any Citizens employees have been alive!"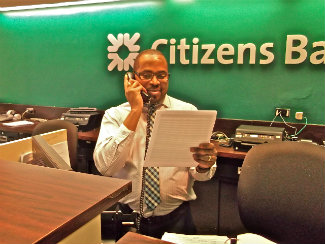 A senior personal banker, Johan Bollers' bubbly personality and infectious smile charm customers and fellow employees at Citizens Bank's Chestnut Hill, Pennsylvania, branch.
"We have known each other for four years," says Branch Manager Sandy Brydges. "When I came here in October 2014, I wanted Johan on my team. That should tell you what I think of him."
Johan, 30, grew up in Guyana, an extremely poor country on South America's north Atlantic coast where he and his family had a subsistence farm. He has lived in the United States for 10 years and became a citizen in 2011. He now lives in Mt. Airy, Pennsylvania, with his wife, Wonika, who is also from Guyana and works at Citizens Bank in Flourtown; and a sister.
"Guyana is a Third World country," said Johan. "My dream was to come to the United States. Our image of the U.S. was that everything is easy and you're automatically rich. The reality is that you have to work very hard here, but you still have a thousand times more of a chance to make it here than in Guyana. We were able to buy a home here in just five years." Johan has develop a great appreciation for the simple things in life that are available so easily in the U.S. "We would walk two miles to catch a bus to go to school, but there were not enough buses, so you might walk the two miles and wait but no bus shows up. That is why we appreciate education and work so hard when we come here."
In high school in Guyana, Johan worked as a paralegal-type of clerk for a judge in that country's highest court. After coming to Philly (an aunt and uncle who also live in Mt. Airy helped bring the family here, which took 10 years), Johan attended Community College of Philadelphia part-time for three years and then Chestnut Hill College (CHC), where he earned a degree in business administration in 2013. Johan never saw snow until he came to the U.S. He is now attending St. Joseph's University for a master's degree in criminal justice, which he expects to get this October. Learn how you can enjoy a career at Citizens Bank as a senior personal banker, like Johan.