Jumpstart Your Career with a Rotational Program for Recent Graduates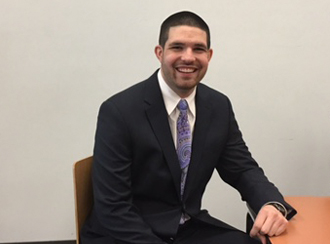 Like most students about to graduate from college, Mike faced the same exciting, yet challenging reality. How do I start my career? It's one of the most common questions to work through as a young professional. However, programs like the Early Career Development Program (ECDP) at Citizens Bank offer students Mike the right launching pad to begin their career.
Mike first learned of the program when a Citizens recruiter visited his Bryant University campus in late 2012 to describe the rotational development program that offers new graduates exposure to a variety of career paths within the banking industry. Mike majored in business/finance related fields and knew he wanted to be part of a financial institution. The ECDP would offer 18 months of hands-on experience, rotating through 3 department areas for 6-months each.
Upon completing an application, screening and interview process, Mike joined the first cohort accepted into the ECDP's rotation program within the Audit team. Mike started his rotation in retail credit risk, then commercial operations followed by consumer operations. For Mike, having a full-time, paid job fresh out of college that also provided hands on practice, training, mentorship and exposure to multiple areas of the business was pretty much a dream job. He continued with Audit's consumer operations team when he finished his 18-month rotation. Mike comments, "From day one, everyone in Audit welcomed me as part of the team. The comradery amongst everyone and their passion for their work and goals really spoke to me".
Mike especially values how Citizens rewards its colleagues for their hard work. Over his three year career thus far, he has welcomed a promotion to staff auditor and then to senior auditor.
When he isn't working towards his next career achievement, Mike can be found at the beach with his friends in the summer.
Wondering how to jumpstart your career as a soon to be graduate? Learn more about the various careers paths available at Citizens Bank.
© 2019 Citizens Financial Group, Inc.