Fostering diversity at work and beyond with inclusive language.
Fostering a diverse and inclusive workforce is a fundamental element to the success of today's companies. When colleagues can bring their whole selves to work, they are more comfortable, engaged and able to deliver their work more effectively.
A core way to promote such an environment is through inclusive language practices, which acknowledge diversity and convey respect to all our colleagues. We sat down with Gina, VP Talent Acquisition Sourcing at Citizens Bank, to talk to her about her work promoting inclusive communication and her support for the LGBTQ community.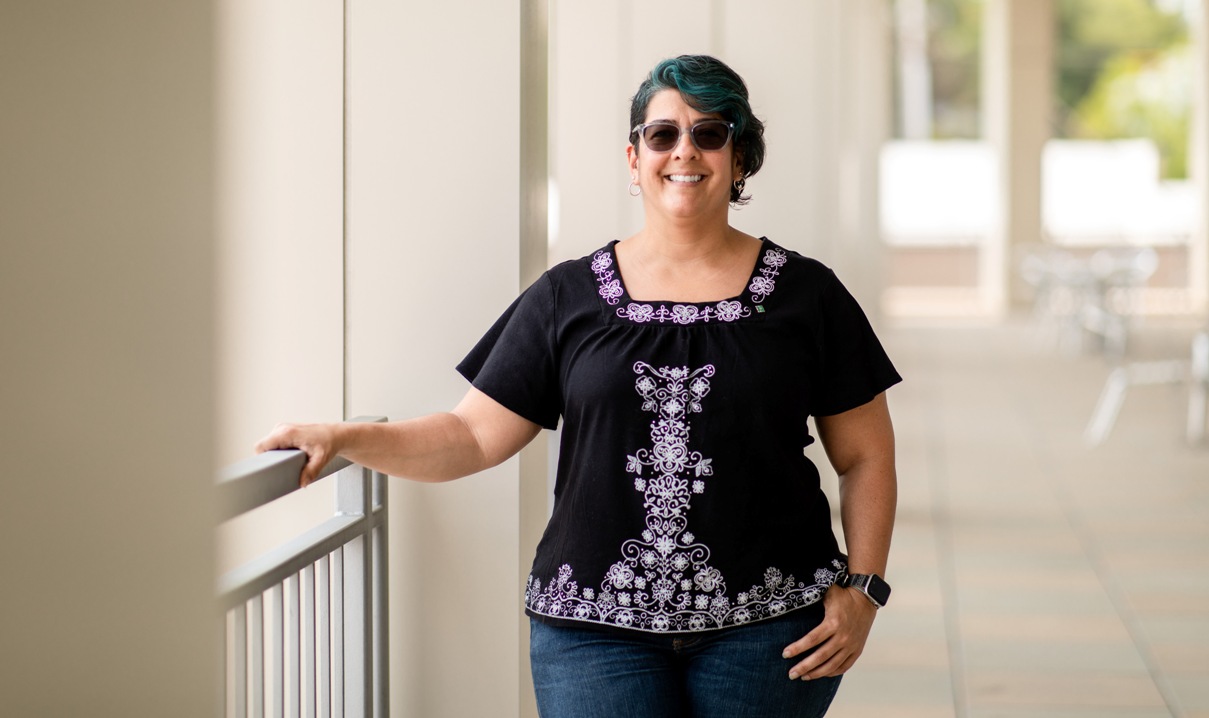 Tell us a little bit about yourself.
I joined Citizens Bank in 2012. I work in sourcing — the group in recruiting that proactively searches for qualified job candidates for open positions. As a Sourcing Lead, I support diversity, executive recruiting and special hiring efforts for various parts of the bank. I've always been an advocate for those who are marginalized or misrepresented, such as the LGBTQ community. Working for an organization that values diversity is important to me, so Citizens was a great fit.
I understand you are a champion of promoting inclusivity in the workplace. How do you go about supporting this?
I'm a part of the Citizens Pride Business Resource Group (BRG) at Citizens, which allows me to advocate for the LGBTQ community and network with amazing colleagues throughout the bank. I'm the LGBTQ pillar lead for our Diversity Recruitment Council. As lead, I build relationships with our BRGs and a variety of community organizations to help us identify diverse talent for hire. I'm also a board member of the Rhode Island chapter of PFLAG, an organization that unites families and allies together to support LGBTQ individuals, both in the workplace and out.
Your passion for inclusivity has led you to present to your colleagues about using inclusive language and being a workplace ally for transgender individuals. What was the goal of the presentation?
That's right. Another PFLAG board member and I presented what I refer to as "Transgender 101." The presentation explained the difference between sexual orientation and gender identity, how to use inclusive language (like encompassing or gender-neutral pronouns), and ways to respect and be an ally for transgender individuals. Our goal was to educate about gender identity, but also share ways to adopt inclusive communication so that all colleagues feel valued, respected and heard.
Can you share any tips for adopting inclusive language?
In my research, the Human Rights Campaign has a wonderful diversity training section of their website with great information to help you adopt more inclusive language. Here are some other quick tips:
Recognize diverse family formation — some families are headed by single parents, grandparents, foster parents, two moms, two dads or more. Consider saying "parent or caregiver" instead of "mom and dad."
Use language that reflects what people call themselves — take the time to find out what labels or words a person uses for their identities rather than making assumptions. Always respect the language a person uses to self-identify.
Use words that encompass all genders rather than only two — For example, "people of all genders" instead of "women and men"; "children" instead of "boys and girls"; "siblings" instead of "brothers and sisters."
Are you interested in working for an organization that values the diversity of all its colleagues? If so, look for a role that matches your experience and apply today!

© 2019 Citizens Financial Group, Inc.