myCAREER initiative empowers colleagues to grow.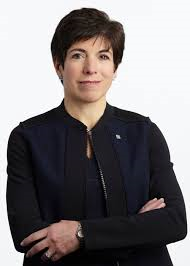 Through our commitment to investing in our workforce, the myCAREER initiative was implemented to provide career growth resources to all colleagues. myCAREER provides an integrated set of tools and resources to help colleagues navigate successful careers at Citizens. It is a long-term initiative that will continue to evolve to accommodate the changing needs of our colleagues.
Susan LaMonica, chief human resources officer comments, "Nothing is more important than developing, engaging, and retaining our colleagues. The myCAREER components position both individual colleagues and Citizens overall for future growth and success."
myCAREER, which was developed with direct input from colleagues and leaders, represents a philosophy of empowering colleagues to build their career in close partnership with their manager. We encourage colleagues to share their growth aspirations and engage in activities that build new skills. Managers are there to provide support, coaching, and access to development resources, including:
Success Factors: Success factors are brief descriptions of knowledge, skills, and abilities that are critical for success in different jobs. We have a library of approximately 200 success factors that cover all jobs throughout the bank.
Career Paths: myCAREER provides role profiles and sample career path visuals for many jobs across various business and functional areas. They serve as models to help colleagues visualize ways to build their own path to future roles.
Conversations That Matter: Our performance management process is based on meaningful dialogue about results, behaviors, and development between colleagues and managers throughout the year. Guides and webinars are available to support effective conversations that lead to growth.
Self Assessments: The most effective career planning starts with an understanding of one's core talents, aspirations, preferences, and drivers – the fundamental characteristics that influence career decisions over time. Our self-assessment tools help identify what is most important to a colleague, and how to leverage strengths and find the 'best fit' opportunities at Citizens.
Looking for a career where you are empowered to grow and supported by development resources? Learn more about life at Citizens Bank.
© 2017 Citizens Financial Group, Inc.