Patrick, a Market Manager, leverages Citizens full-service banking to help business clients succeed.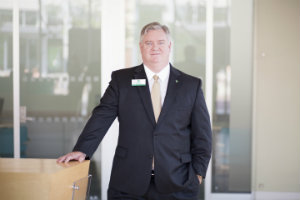 When asked to describe the way he serves his customers, Citizens Business Banking Market Manager, Patrick thinks of the word 'fulcrum', a lever that lifts up, or the source that supplies capability for action. For Patrick, this is exactly how he and his team manage their business banking clients to ensure growth, stability and success as local community businesses.
Barclay Water Treatment Company, headquartered in Newton, Massachusetts, is one of Patrick's numerous clients. The company has seen firsthand how an experienced market manager can leverage a bank's resources and capabilities to meet all of its business needs.
Founded in 1932, Barclay is a leading regional manufacturer of specialty chemical treatments for controlling water chemistry in heating, cooling, process and power generating systems; they're also a longtime customer of Citizens. After being privately owned for years, the shareholders − many of whom were current managers − decided to convert the business to an Employee Stock Ownership Plan (ESOP).
Barclay's shareholders reached out to Patrick, knowing he would work side by side with them throughout the long and exhaustive investigation into how best to execute the ESOP conversion. "We were joined at the hip throughout the entire complicated process to ensure constant and clear communication," Patrick explains. "Citizens provided financing that enabled Barclay to convert 23 percent of the company into an ESOP, with shares held in trust to be allocated to employees based on their invested time and merit with the company," adds Patrick.
Fast forward several years later and Barclay was eager to work with Patrick again to convert the entire company to an ESOP. However, this would prove more challenging as a uniquely structured loan, credit and specialized accounts would be required. Patrick comments, "Collaboration is critical to a successful outcome for my clients and Citizens. I worked closely with Private Banking, Premier Banking and Cash Management - a full cross-functional team inside the bank – to successfully close this deal."
Despite competing with expert ESOP financing banks as part of a bid process, the Citizens team provided a comprehensive financing, cash management and private banking solution that was uniquely tailored for this ESOP conversion. The team's thought leadership and capabilities were on full display as they were able to provide a complicated bridge and permanent financings to enable the complete ESOP conversion.
Today, over 100 employees at Barclay take great pride in their business and are engaged in their work as owners of the company. For Patrick, "I love being able to help my clients resolve problems, save money or work more efficiently, with the help and support of the other teams inside the bank. We really are a full- service shop for anything banking."
Are you a good listener with a passion for working closely with people to find solutions to their banking needs? Learn more about our Business Banking careers, such as a small business specialist, business banking officer or relationship manager.