How Melisa grew from go-getting Teller to successful Relationship Manager in Business Banking
By Melisa | Business Banking Relationship Manager, VP
My story starts back in 2012 when I was working at a local electronics store selling cell phones. A customer I was assisting took note of my customer service skills and friendly nature. That customer happened to be a manager at Citizens, and we got talking. Two months later, I joined Citizens as a Customer Service Teller and have never looked back.
I was an ambitious colleague, determined to grow my career at this amazing new company I found. My manager began to notice the stream of referrals from my teller line, and suggested I become a Banker. After three and a half years helping customers understand their financial needs, I was promoted to a Small Business Relationship Banker. My acumen allowed me to make an impact on the small businesses in my community by helping them secure the capital they needed to grow their businesses and attract local customers. It was during that time I realized that all of my experiences made me ready for a career path in Business Banking.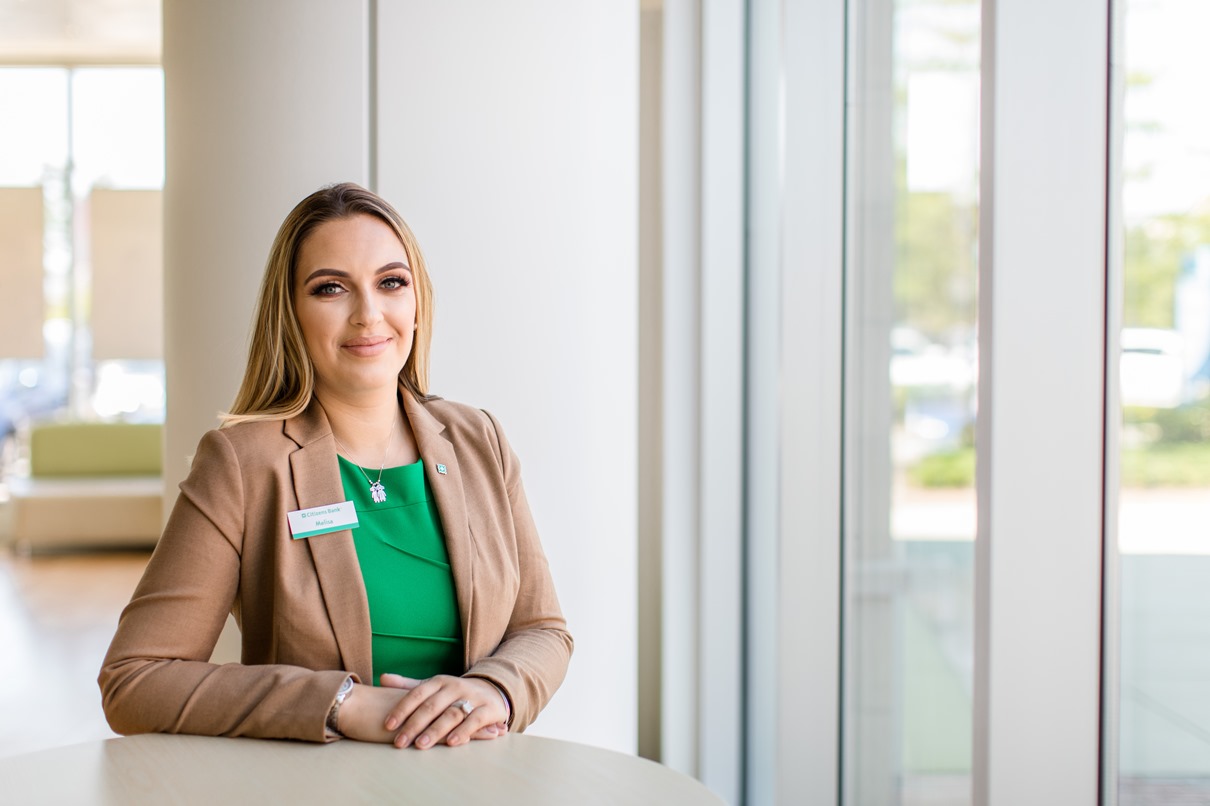 Eight years later, I'm now a Business Banking Relationship Manager, managing a portfolio of about 150 business clients throughout the greater Warwick, Rhode Island, community. I make it my mission to fully understand and support the financial needs of my clients so I can help their businesses thrive. From purchasing new equipment to expanding merchant services, I pride myself on deeply personal service and my standing as a trusted advisor.
What motivates me each day to come to work is first and foremost being able to meaningfully contribute to the success of my clients' businesses. But beyond that, I'm inspired by and grateful for my managers. They've really listened to me and championed my development over the years.
My proudest accomplishment so far has been attending the annual Citizens of Excellence trip — which recognizes the very best, top-performing frontline sales colleagues with a tropical destination celebration — four times running. The recognition goes a long way and demonstrates that going above and beyond for your clients makes a genuine impact.
I think my success can be attributed to a couple of things. First is communication, which is essential to providing great service. Our Business Banking group abides by something we call the "Sun Down Rule" — a commitment to get back to everyone who has reached out to us by the end of the day. Even if it's just an acknowledgment that I've received the customer's note and am working on it, the transparency goes a long way.
Second is maintaining a consistent learning mindset. I try to absorb something new every day — a fresh industry skill, a different approach to customer acquisition — to keep that mindset active. Being comfortable with the uncomfortable is oftentimes the fastest way to grow.
Finally, I think determination is an important part of the job. You may experience curveballs, but if you're determined to be successful and maintain a positive attitude, you'll excel.
Looking to the future, I'm hoping to continue my growth with Citizens. There are logical career progression opportunities within Business Banking, such as becoming a Relationship Manager II or a Market Manager. I desire one day to become a Market Manager, so I can coach and inspire my own team, just as my manager has done for me.
I've been able to grow the foundation of my career with Citizens, and I'm so grateful for the growth I've been able to achieve here. If you're on the job search, consider driving your career with Business Banking and making a meaningful impact in your community.

© 2020 Citizens Financial Group, Inc.
Business Banking Related Jobs