Meghan reaches colleagues, the community and customers through volunteerism.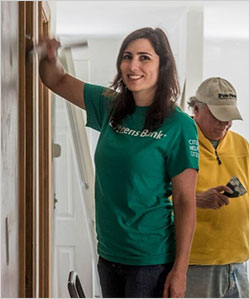 Meghan, an operations support manager on our Business Banking team, is deeply involved in her community and regularly gives back by organizing volunteer events with her colleagues. She took her commitment to the next level by becoming a Citizens Community Captain. The Community Captain program is designed to encourage and increase community engagement among colleagues at Citizens Bank.
Tell us about your role as a Citizens Community Captain.
"I'm known around the office as the volunteer person and have organized a number of volunteer groups and activities. When I was approached to be a Community Captain, it seemed like a natural fit. It's exciting to be a part of this new program!"
Why is volunteering important to you?
"I've been with Citizens for 13 years and one of the company values that appeals to me most is the commitment to community here and how much we do for our neighbors. Volunteering is a core value of mine and something I've always been passionate about, so I really enjoy bringing people together and building camaraderie among colleagues who may not regularly work together."
How does volunteering keep you connected to customers?
"I've found that volunteering is a great way to put you in touch with your customers, in addition to the broader community. I've been at volunteer opportunities where people will see our green Citizens t-shirts and stop to give kudos for excellent customer service. It reinforces what we're doing and really makes you feel like you're making a difference."
What advice would you give to colleagues interested in volunteering in their community?
"I would tell them to think about what they're passionate about and explore it further because there is almost always going to be a volunteer opportunity that fits your interest. I would also tell them not to be afraid to step out of their comfort zone and try something new. Every little bit helps and everyone can have an impact; especially on the smaller organizations."
Find your passion, for giving back and for your work. Learn more about our culture and career paths as part of a leading Fortune 500 organization.
© 2017 Citizens Financial Group, Inc.