Meet Karen and Omar, successful bankers and proud Hispanic Americans serving the Framingham, MA community.
Walk into our Framingham, MA branch and you instantly get a community feel. Customers and colleagues exchanging pleasantries and catching up about their children, friends and what's happening in town. Fueling these conversations is two of our colleagues, Karen and Omar, Hispanic Americans with strong ties to the community. We sat down with them to talk about what it means to be part of the Framingham community.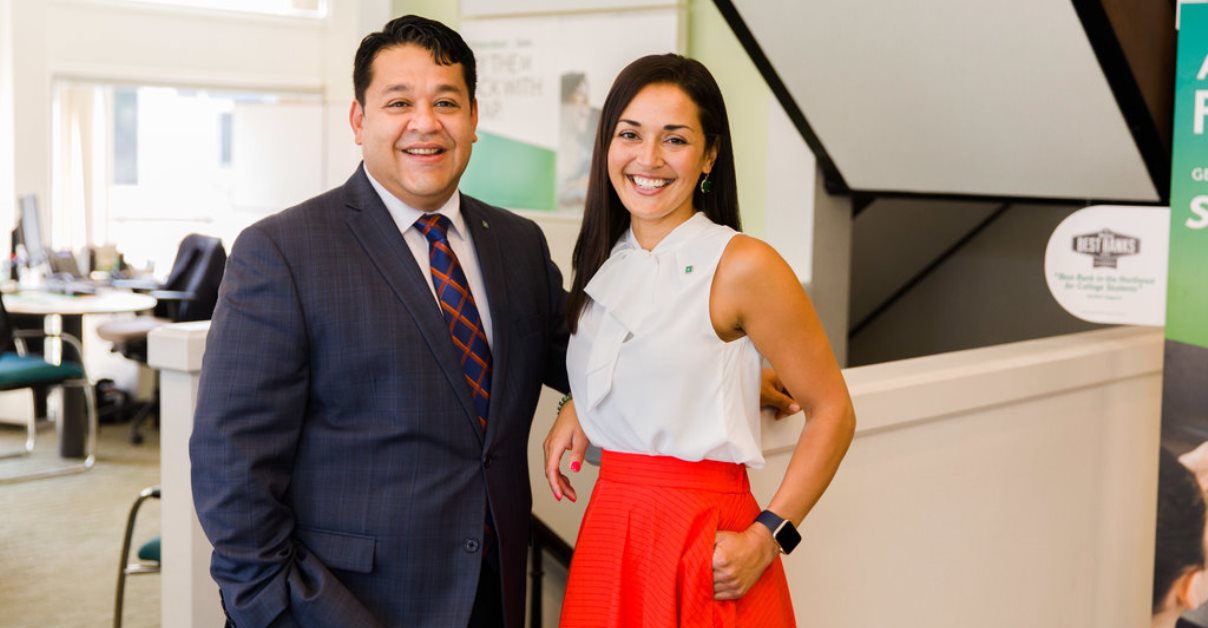 Karen joined Citizens Bank about 6 years ago. As a Branch Manager, she oversees branch operations and coaches her team members how to best serve their customers. Karen also helps Spanish-speaking customers better understand how to bank with Citizens. "Framingham has a large community of Hispanic and Latino individuals, some of whom bank with us," explains Karen. "Being bilingual, I'm able to translate for some people and help ease any apprehension they may have with opening an account or applying for a credit card, for example."
Omar has worked for Citizens Bank for the entirety of his 14-year financial industry career! Omar works side by side with his portfolio customers, providing solutions through specialized products and services that improve financial processes and help grow their businesses. Fluent in English, Spanish and Portuguese, he is able to do business with his wide variety customers in their native language if they so choose. Many of Omar's clients are top-tier businesses that serve many residents in the greater Framingham area.
Omar attributes his success to his childhood values and the support he's received from Citizens Bank. "I grew up in Colombia, where my mother stressed hard work, gratitude, loyalty and respect as fundamental to making a life for oneself," mentions Omar. "I think I have really internalized these principles and they have helped me get to where I am today. I'm also grateful to be a part of an organization like Citizens Bank. With their assistance, I was able to buy my first home, receive over 14 certifications from various universities, and become a notary public. Just as I am there for customers' landmark moments, Citizens Bank has been there for mine."
Karen, too, is reminded of her early years and the influence it has on her today. "My father worked three jobs growing up to provide for my sisters and me to go to college. I learned from him how to persevere in my work and be optimistic while doing so. I think this same attitude exists here within the Framingham community as well," comments Karen.
One of the aspects Karen and Omar love working in the community is being able to witness life-changing moments in their customers' lives. "When we can experience our customers achieving a life milestone – like purchasing their first home, getting a loan to start a business or sending their first child to college – those are the occasions that really bring us joy," smiles Karen. "It's great that as a bank we offer all these products and services that give our customers support and fulfill their needs. Within this close-knit community, we build ourselves on the milestones and successes of others, celebrate together and always look at the glass half full. I'm proud of my Puerto Rican Heritage and how it has formed me into the woman I am today."
Learn more about other awesome colleagues like Karen and Omar at Citizens and how you can apply to join our organization.

© 2018 Citizens Financial Group, Inc.