Survey agent Jo-Ann prides herself in knowing she is the voice of the customer.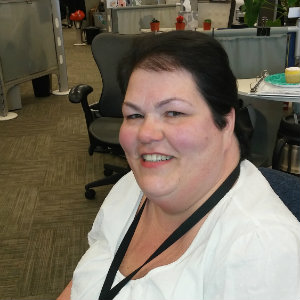 Meet Jo-Ann, survey agent at the Citizens Call Center. Jo-Ann is part of a team that reaches out to customers to learn how they feel about their banking experience and what's on their minds. Whether the feedback is positive or negative, Jo-Ann responds to each of her customer's concerns.

"I listen to what customers say about their experience at the branches, the call center and credit card center. We also do a loyalty survey that involves all customers, whether they visit the branch or not," adds Jo-Ann.

If the customer experiences a problem, Citizens' survey agents are responsible for following through with the appropriate department to resolve the issue. The survey agent team's goal is ensuring the bank's customers are happy and remain loyal customers. Jo-Ann prides herself in knowing she is the voice of the customer.

Jo-Ann explains how she helps improve customers' impressions of the bank. "We have a unique job because we are not selling anything; we listen to what the customer says. We let them express their opinions while remaining calm and patient."

Customers are always thankful for a call because it shows that Citizens cares about their concerns and won't brush them aside.
In addition to her role as survey agent, Jo-Ann enjoys the volunteer opportunities available at Citizens. "I was able to volunteer the past two years with Children's Friend in Providence. It was a great experience, and I'm grateful the bank encourages community service."
If you enjoy listening to customer concerns and resolving issues, learn more about our Call Center careers.