Meet Gloria, successful portfolio manager and proud Hispanic.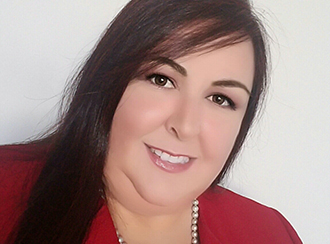 Gloria, a portfolio manager with our Private Equity Banking Group, is driving change for Hispanics and our business. We celebrate the contributions of colleagues like Gloria and their efforts to enhance and embrace diversity as part of our workforce.
From Venezuela to Boston
Gloria was born and raised in Caracas, Venezuela, where she graduated with a bachelor's degree in public accounting from Universidad Santa Maria. She worked for Xerox Venezuela for over nine years and rose to the position of administration manager, directing the financial and administrative functions of two central-region offices, and overseeing corporate and government accounts.
After coming to the U.S. in 1994, Gloria adds, "I earned my graduate certificate in administration and management from Harvard University Extension and an MBA from Northeastern University." Gloria worked at State Street Corporation, where she managed a portfolio of private equity and hedge funds, corporations, and insurance companies while gaining extensive experience in credit and risk management supporting the foreign exchange business.
When Gloria joined the Citizens team in 2011 as a portfolio manager, she saw an exciting opportunity to become part of an organization committed to strengthening communities and building a workforce that represents the communities where we do business.
Diversity and inclusion is part of a sound business strategy.
Gloria found that her passion for driving change fit right at home at Citizens, where diversity and inclusion is a sound business strategy and strategic focus. She comments, "Having a diverse colleague population with an inclusive mindset allows the bank to remain relevant and relatable to its customers."
Citizens understands how demographic shifts impact the bottom line of a business. "We need to be proactive and prepared to culturally understand the needs, the likes and the gaps among our stakeholders, especially when you consider some of the Pew Research Center's findings, such as Hispanics are the largest minority group in the U.S., 29 percent of the population by 2060", adds Gloria.
As a member of the Citizens multicultural Business Resource Group, Gloria stresses, "It's also a 'right thing to do' component of our diversity efforts, which is our responsibility to retain and advance minority groups."
Building a portfolio of leadership experiences.
Over the last 10 years, Gloria has held various positions with the ALPFA Boston board and the Women of ALPFA strategic development committee for ALPFA National. It is a working board rather than a governing board, where Gloria and the board members are responsible for running a company – from staffing (volunteers) to fundraising to keeping the books. She notes, "The most satisfying part has been mentoring students. When I receive an unexpected email or call from a mentee thanking me for a successful interview or landing a dream job, I know I've made an impact."
Learn how you can be part of a team of inclusive professionals dedicated to strengthening the business and our communities.
© 2016 Citizens Financial Group, Inc.