Meet Brian, Credit Analyst and active volunteer in his Rhode Island community.
Credit Analyst Brian was honored at the United Way of Rhode Island's 92nd Annual Celebration with the 2018 Young Leader Spark! Award. The award recognizes an individual who sparks change in the community through exceptional volunteerism, philanthropy and leadership.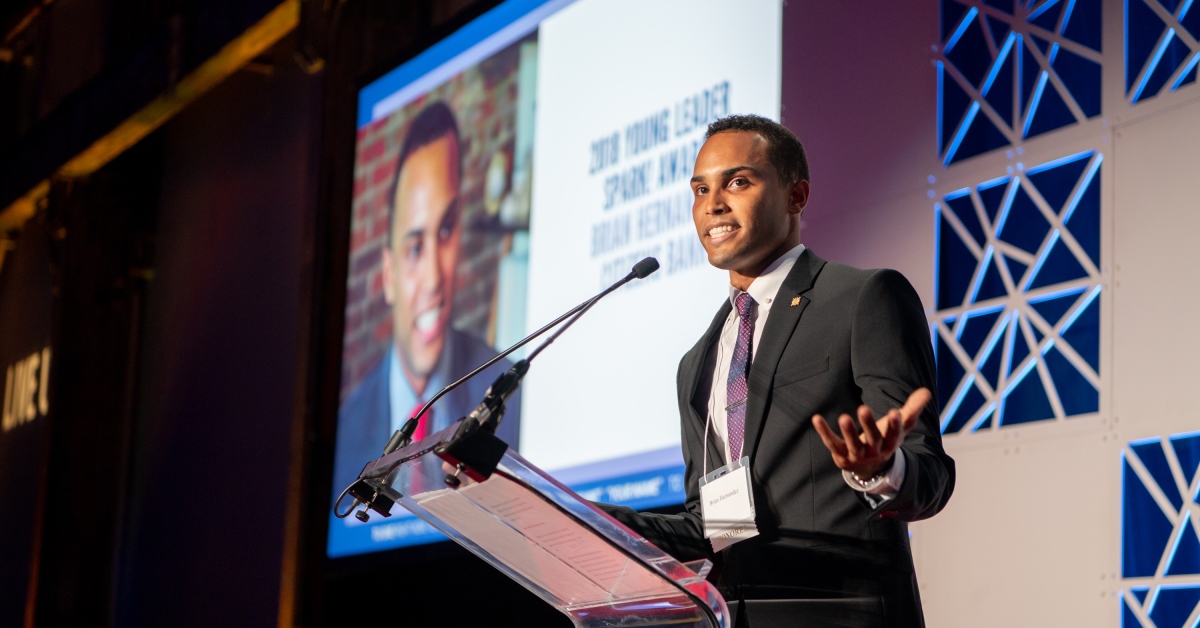 Brian teaches multiple financial literacy courses throughout various not-for-profit organizations, volunteers with the Junior Achievement of Rhode Island "JA in a day program," collaborates with the United Way Young Leader's Circle, and recently became counselor-at-large for the University of Rhode Island Executive Alumni Board. We sat down with Brian to ask him about his involvement and why he dedicates his time giving back to his community.
When and how did you first get involved in community service?
I have always had a passion for giving back and being an active member in my community. I remember the first time I got involved with community service. I was a freshman in high school and used to stay after school to help with the restoration of a garden in the school yard. I distinctly remember how rewarding it felt to see the impact that our community can have when we join hands and work together.
Tell us about a favorite moment in your volunteer experiences to date and why it stands out.
A very special moment for me was the last day of volunteering at the adult English as a Second Language (ESL) class at the Genesis Center in Providence. The students were graduating to the next level and many were excited to take on new challenges. I will never forget the shared feeling of accomplishment and excitement in the room. Being able to help as a volunteer and seeing the students reach their objective made it all worthwhile.
What would you say to individuals to encourage them to volunteer?
There are so many opportunities available to volunteer and make an impact in your community. I have met so many great folks through volunteering who share the common goal of making our community a better place. Citizens Bank does an amazing job in providing their colleagues with opportunities to go out in the community and have an impact. I encourage everyone to go out and get involved. You will not regret it!
Learn more about our inspiring colleagues and the work they do in the community.

© 2020 Citizens Financial Group, Inc.