Meet Annie, portfolio manager and graduate of Commercial Banker Development Program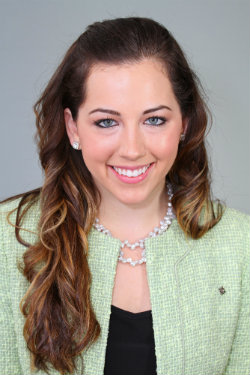 Fun Facts:
Favorite class in college was Brand Management
Enjoys musical theatre as a hobby, singing and dancing
Avid New England Patriots fan
Favorite tropical place – Dominican Republic
Annie came to Citizens in June 2012 and joined our first Commercial Banker Development Program class. She learned about CBDP at a recruiting event that was held on campus at Babson College, where she was a business student.
"When I heard about this program I was immediately interested. The opportunity to be a part of a year long training program was very unique. I was drawn to the combined classroom and rotational experience, especially considering that I did not have any prior commercial banking work experience."
Commercial Banker Development Program is a 12-month rotational training program that accepts applications in September of each year. Annie's prior work experience, although not in commercial banking, displayed many transferrable skills that made her a strong candidate for the program.
"I joined the program with out having any prior work or internship experience in banking. But that is the great thing about CBDP. I was able to get experience in many different facets of banking. I really felt as though the program immersed me in the commercial banking industry as well as in Citizens Bank."
After graduating from the program in 2013, Annie obtained a full time role as an analyst in the Franchise Finance Group at Citizens. At the end of 2015, she was promoted to a portfolio manager where she manages a portfolio of customers and new prospective clients.
"The program allowed me to kick start my career in Commercial Banking. It provided me with a strong basis of knowledge that I have been able to grow over the years and continue to use in my role as a portfolio manager."
Annie loves her role as a portfolio manager and it's rewarding for her to go into a restaurant and see what the bank has financed. However, for Annie, the best thing about working at Citizens is definitely the people and Citizens culture of collaboration.
Are you a recent grad interested in banking but wondering how to jumpstart a rewarding career with growth opportunities? Learn more about our Commercial Banker Development Program.
© 2017 Citizens Financial Group, Inc.