Meet Aditi
Commercial Banker Development Program associate and prior summer intern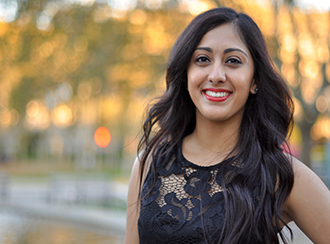 Fun facts on Aditi, Commercial Banking Associate:
I've had a passport since I was two months old!
When I was little, I wanted to own and manage a vacation resort after returning from a tropical vacation with my family.
My dream vacation would be Bora Bora, staying in an overwater villa.
If I could meet anyone, it would be J.K. Rowling. I grew up reading the series and I'm a huge fan!
Aditi is embracing all that Chicago has to offer. Although a Pittsburgh native, she is currently in Chicago completing her first rotation in Mid-corporate Banking as an associate of the Commercial Banker Development Program. "I like to check out places that are new to me, either tourist attractions or hidden gems only known by native Chicagoans," adds Aditi.
Her curiosity for exploring new cities is also how she came to discover Commercial Banking at Citizens Bank. As an accounting and finance major at the University of Pittsburgh, Aditi wasn't sure if she wanted to pursue a career in public accounting, business or another area. She comments, "I saw the Commercial Banking Summer Internship Program at Citizens and to be honest, I wasn't sure what commercial banking really was. However, I saw that it was open to all majors, including finance and accounting, so I thought it might be a good opportunity to see if it fit with my background and interests."
Aditi knew of Citizens as a strong financial institution and began the application process. "It was definitely intimidating as I met with the internship program director and several other colleagues in back to back interviews. But I was impressed with how friendly and helpful everyone came across - very different from the internship interviews I had with other organizations," recalls Aditi.
She began the internship in June 2015, working out of the Pittsburgh office. Although most of the interns were in Boston and a few in Cleveland and Philadelphia, Aditi instantly felt welcomed and connected as part of the program. As an intern cohort, they had regular teleconferencing meetings, development webinars, and trainings on commercial banking areas and other business lines. Aditi adds, "My manager went above and beyond outlining colleagues from various areas of the bank to meet with, learn from and build a network."
She admits she initially felt overwhelmed, working as part of a large organization. However, after 10 weeks and with the support of collaborative colleagues surrounding her, Aditi learned the ins and outs of banking, the analytics behind accounting and how to apply what she is learning in school to her work.
Aditi returned to school to finish her senior year and with the encouragement of her internship manager, applied to the Commercial Banker Development Program in the fall. "I was a little hesitant at first since the program is based in Boston but I had such a great experience and wanted to pursue my interest in commercial banking. As a prior intern, I was able to apply for an early application and interview window," comments Aditi.
Select applicants, including Aditi, were then invited to a "Super Day" to complete interviews with Commercial Banking colleagues and meet with other applicants and Commercial Banking executives in Boston for the final stage of the application process.
Aditi began working as an associate in the Commercial Banking Development Program in June 2016 upon graduation. Following her first rotation in Mid-corporate Banking in the Chicago office, she will move into a rotation in Commercial Real Estate in Boston. Her rotation will conclude with several rounds of interviews for various positions and a placement into a role that best suits her skill-set and interests.
"My advice for anyone thinking of applying but still unsure is to go for it. Both the internship and development programs have such a great structure that allows you to constantly learn and evolve your career," says Aditi. She concludes by reminding everyone starting out in their career to ask questions, a lot of them, because that's the only way you will grow!
Learn more about the Commercial Banking summer internship and development programs.
© 2017 Citizens Financial Group, Inc.