Licensed Relationship Banker Speros: "Learn to put yourself in the customer's shoes."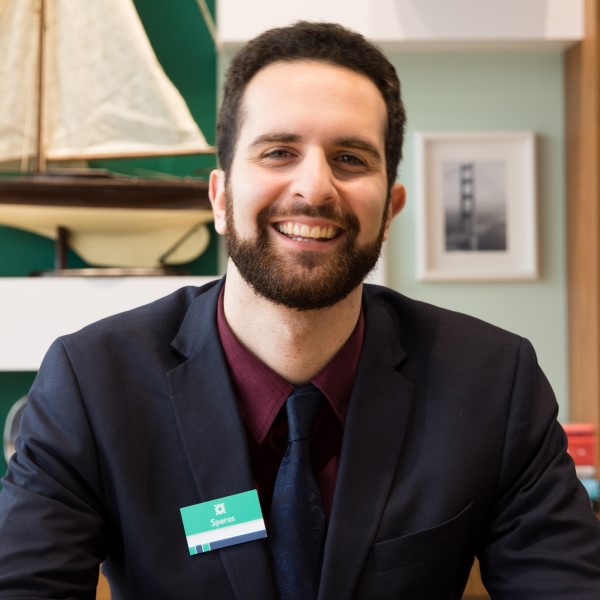 Even before Speros joined Citizens Bank as a Licensed Relationship Banker, he knew he had a knack for finance and money management. "Since I was a young kid I was taught the importance of budgeting and being financially competent. When I was pursuing a job, it seemed like a natural choice to go into banking because I was able to use my skills to help others define their financial goals," says Speros.
As a Licensed Relationship Banker at the Lechmere Square branch in Cambridge, MA, Speros engages with customers to fully understand their financial needs and helps them with their saving, spending and borrowing needs. "I see numerous customers daily who come in for a variety of run-of-the-mill issues," explains Speros. "They are not always thinking about financial planning, so it is my job to ask those probing questions about retirement or paying for college. My role is to serve my customers' primary needs but also to establish a long-lasting relationship with them so I can provide them the best possible service."
Speros credits the support he received from Citizens as integral to his early success within his role. New hires have the opportunity to participate in an at home, paid self-study program in order to obtain all the necessary licenses—the Series 6, Series 63 and Life and Health Insurance exams—for the job. "The paid study time really prepared me for my examinations," remarks Speros. "I was given a total of five weeks of paid time at home that I was able to devote entirely to learning the necessary material. Citizens provided me a ton of resources including Kaplan study materials and morning calls with an instructor where I was receive help with any questions I had. With their help, I was able to pass my exams with flying colors!"
Speros loves working at Citizens because it is a "big bank with that small bank feel." "Citizens has this very friendly rapport within the communities they work that I love. Customers have been with us for so long that they really trust the bank. As a result, they are willing to increase their share of wallet with us, which of course makes my job easier," observes a smiling Speros.
When asked if he had any advice for individuals considering applying for a Licensed Relationship Banker position, Speros comments, "Be curious, empathetic and self-motivated. If you are willing to ask those probing questions about people's finances, can learn to put yourself in the customer's shoes and are not afraid of rejection, then you will succeed as a Licensed Relationship Banker."
Learn more about a promising career as a Licensed Relationship Banker.

© 2018 Citizens Financial Group, Inc.