Pod structure helps the home mortgage team thrive.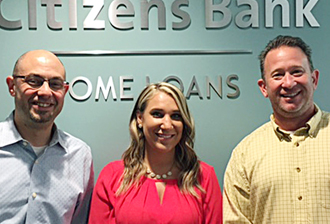 There is something unique about our home mortgage lending team. It's often referred to as the "Citizens advantage" by our mortgage colleagues. For our loan officers, processors, underwriters and closers, it's what makes working at Citizens a step above the rest – our well-established pod-based structure.
The pod structure, or a designated team of colleagues, each with unique roles, has long been in place at Citizens to support our lending colleagues from start to finish for any loan application. It allows the mortgage team to work more efficiently and accurately with stronger opportunities to communicate openly during all phases of a loan application.
For our customers, it provides a streamlined loan application process and ultimately, an exceptional customer service experience. Since implementing the pod support structure, customer survey scores have been on the rise, loan application volume has grown and home lending colleague retention has improved significantly.
"Before the pod structure, it was a bit of a round robin as loan applications were assigned to various individuals, often based on the workloads of the processors, underwriters and closers. Today, it's a united and collaborative team, where a loan officer has a designated loan processor and very familiar operations team supporting their loan applications", comments Brandon, Home Mortgage Operations Group manager.
The pod team is able to develop relationships and have weekly pipeline calls to discuss applications in progress. It's a well-coordinated effort to make sure everyone is on the same page and customer loans are moving along as flawlessly as possible.
Brandon comments, "Everyone knows firsthand how stressful the home buying process can be so ensuring a smooth application process and meeting closing deadlines is critical to the mortgage team's success and customer satisfaction."
Home Mortgage Sales Manager and Loan Officer David credits the pod with strengthening customer relationships commenting, "The structure allows me to introduce my processor directly to the customer as part of my team. It is an added value for my realtors and referral sources as they like the confidence of knowing who will be working with their customers".
Discover how our pod structure, collaborative culture and commitment to volunteering in the community can provide a rewarding career in home mortgage.
© 2017 Citizens Financial Group, Inc.