Get to Know: Alex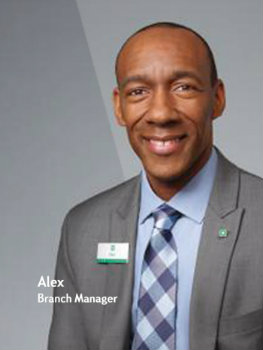 Alex, a branch manager in White Plains, New York, was chosen to appear in our Ask a Citizen marketing campaign. Alex talked with us about how he helps customers better understand everyday banking – and what it's like to be a TV star!
How long have you been with Citizens?
I worked at Citizens from April 2010 to August 2012, then came back and have worked here since May 2014.
Give us an example of how you help Citizens deliver the best possible customer experience.
I put myself in my customers' shoes— I truly realize how complicated and intimidating banking can seem to some people. I try to be as clear as possible and use examples our customers can relate to so they can understand how everyday banking works (checking accounts, credit cards, home equities).
When our customers feel confident about how our products can help them easily manager their money, they are more likely to allow us to provide those services and to reach out to us when they need advice.
Why did you decide to enter the Ask a Citizens contest?
I believed the experience would be great and fun, which it was. I never expected to be chosen, but you have to "be in it to win it," as they say. Also, I've been on a kick to try new things and not allow fear to get in the way.
Tell us a bit about your winning essay.
I wrote mostly about how at the branch we promote Mobile Deposit and online banking to our customer. Many customers can feel intimidated by electronic banking or believe it poses a risk, as identity theft is rampant.
We tell them our mobile and online banking provide great alerts via text or email when your balance changes, when checks or auto-debits clear your account, and other important changes. The convenience of these services alone can help customers monitor their accounts throughout the day without ever visiting a branch.
Where was the video shoot done?
The video with my family was at a Boston bowling alley, which was a blast. Then we shot more at a Boston Citizens branch.
Have you heard from friends or colleagues who have seen your ad spot?
Many friends and customers have seen me in the commercials. They are calling and texting, teasing that I'm a celebrity now. Customers have said they're very impressed and thought it was a great honor to have been chosen.
Learn more about Consumer Banking careers at Citizens.
© 2015 Citizens Financial Group, Inc.