Building community strength through financial knowledge.
Embedded in the Citizens Bank credo is a commitment to strengthen our communities and provide our colleagues with opportunities to become involved. In support of April's National Financial Literacy Month, Citizens kicked off its 2016 campaign, Citizens Helping Citizens Manage Money, aimed at providing a better understanding of financial topics ranging from the basics of checking accounts to the intricacies of household budgeting to long-term financial planning.
This financial education program is helping our neighbors reach their financial goals by:
Contributing $1.3 million to more than 77 nonprofit financial education programs in our local communities.
Offering financial literacy pages on the Citizens web site to highlight financial tips, calculators and tools as well as our community support.

Simon Griffiths, head of Distribution, explains how the program is really a benefit available for every consumer noting, "Everyone can use a refresher on managing their money, including you and me. Earning money is one thing, but managing it is an entirely different ball game. I am proud to work for a bank that puts financial literacy at the forefront of everything we do – whether in the community or in the branches".
The program taps into its greatest asset, more than 400 Citizens bankers, who will volunteer with local nonprofits to teach consumers how to better manage their money. The Bank's Community Development Division launched the Community Ambassador program in 2014, to train colleagues across our footprint to deliver the FDIC's MoneySmart curriculum to consumers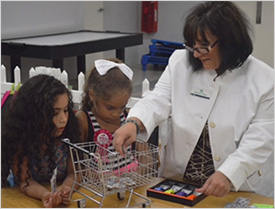 As a Community Ambassador and Business Development Officer for YourPlace Banking at Citizens in Rhode Island, Darlene Filosa teaches workshops at nonprofits including community action organizations, groups that provide housing counseling, the RI Community Food Bank, and two of our Champions in Action partners (Genesis Center and Operation Stand Down RI). During her budgeting workshops, Darlene shares, "I always break down what people spend daily on habits such as coffee, cigarettes or candy. This way they can see what they are spending weekly and realize that if they were to cut back by half, they could save money to get to their personal goals".
By the end of 2016, Citizens Helping Citizens Manage Money is expected to improve the financial acumen of more than 220,000 individuals. Citizens Helping Citizens Manage Money is part of the bank's broader Citizens Helping Citizens program, which addresses five key areas: hunger, housing, economic development, financial education and volunteerism.
In addition to strengthening our communities, what are some of the other great reasons to work for Citizens?