Early Career Development Programs at Citizens Bank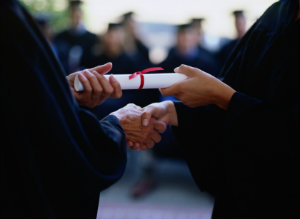 Citizens Bank's Early Career Development Program is designed to give recent graduates the opportunity to learn about specific business lines and their functions, while providing insight into working at a major financial institution. Program members meet with senior leadership and work together to develop skills that will be the foundation for careers in finance.
Thirty recent college graduates kicked off the program this past June by attending the Early Career Development orientation. Specializing in three key business areas – Commercial, Audit and Finance – the program provides graduates with an enterprise wide view of Citizens Bank to help them learn about our strategy, priorities and businesses. In addition, it provides skill-building in key areas and the opportunity to build relationships across the organization.
An enterprise wide view
"We put an 'enterprise wrapper' around the three existing programs to provide a more holistic experience," said Susan LaMonica, chief human resource officer. "Our goal is to ensure these talented new colleagues get not only specific business knowledge but exposure to the organization more broadly."
This unique opportunity encourages participants to think across business lines and develop a broader perspective on the company. As recent graduates breaking into the workforce, they'll gain an understanding of Citizens Bank's corporate culture and business practices through discussions with CEO Bruce Van Saun and other senior leaders. Our customers are a core component of the program, which includes branch visits led by Kim Dee, retail banking director and her team. Meeting with commercial customers and hearing how the commercial team brings innovative ideas to customers is something these graduates won't find at other major financial institutions. The recent graduates will also work according to our Credo by participating in a group community service activity.
A plan to win
An essential skill-building part of the agenda is the "plan to win" project. Participants were divided into mixed teams and assigned a business challenge from our Consumer Banking, Commercial Banking or Human Resources departments. Each team, with guidance from an executive sponsor, developed recommendations and presented their ideas to a panel from the Executive Leadership Group in the fall.
We are only as good as our colleagues
A key component of the experience is interaction with peers who have completed the business line programs. "The peer component is another distinctive part of this development experience - helping ensure new colleagues hit the ground running by establishing relationships and building networks from the start," said LaMonica.
Going forward, the plan is to bring this group of colleagues together for future development and networking opportunities to continue to foster the relationships that are created.
Recent graduates or soon-to-be graduates interested in a career in commercial banking, auditing or finance can kick start their career at Citizens Bank. Applications open January 18, 2016 for summer internship opportunities. For more insight into the program, read what program members have to say about it by clicking below.
Learn more about our career paths and development programs at Citizens.
© 2015 Citizens Financial Group, Inc.