Our Banking and Wealth Center is Providing Clients with Holistic Wealth Management Solutions
In early 2018, Citizens Bank Wealth Management had reason to celebrate. In partnership with Distribution, we celebrated the official grand opening of our first Banking and Wealth Center in Chestnut Hill, Massachusetts. The ribbon cutting ceremony, cocktail reception and open house were attended by Citizens Bank senior leaders, branch colleagues, local dignitaries, clients and guests. In addition to the celebration, Citizens Bank also made donations to the Brookline Food Pantry and Centre Street Food Pantry, each for $3,000.00.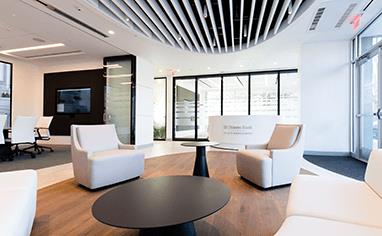 This innovative approach to the client experience is designed to meet the needs of Mass Affluent, Affluent and High Net Worth clients. In addition to Wealth professionals — such as Premier Advisors, Private Wealth Advisors and Financial Advisors — the location is also home to Business Bankers, Mortgage Lending colleagues and a full service retail branch.
The new location was designed with the client, colleague and community in mind, creating a feeling of expertise, knowledge and credibility for anyone walking through the door. Not only is there space for private client discussions but there is also space for community meetings, events and not for profit organization use.
Simon Griffiths, Head of Distribution, shared his thoughts on the Banking and Wealth Center. "The Banking and Wealth Center has an experienced team of colleagues ready to work with individuals, families and businesses to provide financial advice and sophisticated recommendations to help them reach their financial goals."

Eric, branch manager at the new center, added excitedly, "Take a look around this place…this is where I get to come to work every day! The highlight of the center is our collaboration room where various specialists from different areas of the bank work together to create an on-demand service to meet our client's needs."
Learn more about life at Citizens and the ways we show our commitment to the communities we work and live in.
© 2020 Citizens Financial Group, Inc.
Jobs For You
CSI Investment Assistant II

Monroeville, Pennsylvania, East Naples, Florida, West Palm Beach, Florida, Chestnut Hill, Massachusetts, Boston, Massachusetts, West Pittsburg, Pennsylvania

CSI Investment Assistant II

West Palm Beach, Florida, Chestnut Hill, Massachusetts, Boston, Massachusetts, Monroeville, Pennsylvania, East Naples, Florida, West Pittsburg, Pennsylvania