Haley is developing her banking skills and a passion for giving back.
As a recent college graduate, Haley knew she had an exciting opportunity to learn the ins and outs of commercial banking when she was accepted into the Commercial Banker Development Program at Citizens Bank. She also saw an opportunity to surround herself with volunteering efforts and develop a unique set of skills outside of banking.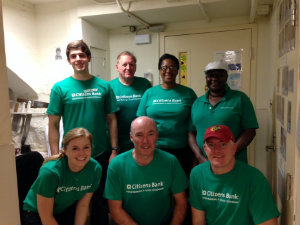 Top row left to right: Eric, Phil, Antoinette, Olga.
Bottom row left to right: Haley, Morgan, Jeff.
Haley jumped at the chance to join members of the Commercial Real Estate team for a volunteer event at The Women's Lunch Place on Newbury Street in Boston this past March. The Citizens volunteer team spent the morning preparing and cooking food for a St. Patrick's Day dinner, as well as meals for the next day. In addition, they helped unload deliveries and serve breakfast to the center's guests.
A huge feast was prepared, complete with Irish soda bread, corned beef, asparagus, lentil loaf, sweet potatoes and butternut squash. Haley comments, "The Women's Lunch Place is a really impressive organization because they put so much effort and planning into cooking fresh meals. Almost everything I saw was made from scratch".
The Women's Lunch Place is a safe haven for women who are experiencing homelessness or poverty. The organization's mission is to meet their basic and immediate needs, while also delivering support services to help them achieve stability and independence.
Now in her second rotation as a Commercial Banking Associate, Haley is proud to be a part of a leading financial institution that is truly dedicated to helping individuals and families in the neighborhoods where they do business.
Citizens Banks offers one of the few rotational training program curriculums in the industry with a keen focus on leadership development and career growth. Learn more about joining the Commercial Banking Development Program.
© 2016 Citizens Financial Group, Inc.