Branch Manager Alex shares his thoughts during Black History Month.
February marks Black History Month, a time when we recognize the rich history of black Americans and celebrate their contributions to the United States. We spoke with Alex, Branch Manager in Westchester, NY, to hear his thoughts on diversity and inclusion and what the month means to him.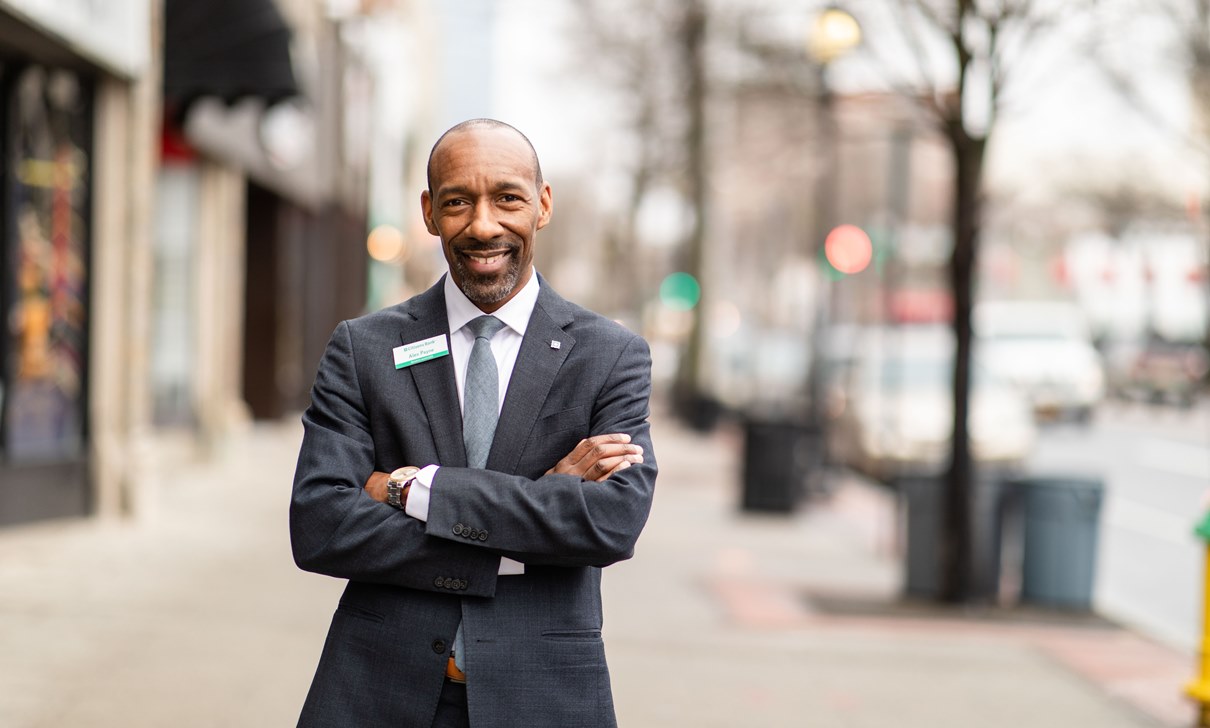 Tell me a little bit about your background and explain a little bit about your role as branch manager please.
I've been in the banking industry for nearly 30 years and I'll be with Citizens for 7 years as of May 2019. As a branch manager for both the White Plains and Yonkers Citizens branches, I have two fantastic teams that I work with at each location. My goal is to coach and train my bankers to be the best they can be so they can better serve our customers. It's an easy job when my team comes to work so self-motivated and prepared. I love watching them grow and achieve success over the years – it's what drives me to come to work each day.
Tell me about the White Plains and Yonkers community. You've worked there for some time and I understand you're involved in local volunteer work; can you share a little about that?
Both communities are full of diverse, friendly people and we connect pretty easily with our customers. Citizens encourages and allows us to give back to our community through our jobs. With the company's support, we organize a monthly volunteer event with local organizations, like the fire department or food bank. When I see families struggling to make ends meet it always puts things into perspective for me, so I delight in opportunities to support and engage with our community. I also do some youth financial literacy teaching with Junior Achievement of New York – it's inspiring to see how eager these kids are to learn.
What does Black History Month mean to you? Are there any figures or people in your life that you think of during the month?
Being an African American, I appreciate the designation and think it's a good time to reflect on the contributions black Americans have made. That said, I think it's important to celebrate the rich history of black Americans year round as well. Our history can be quite difficult to deal with and I would challenge people to continually learn about figures and events that might not be familiar to them. During February, my family and I will be remembering numerous great African Americans. Martin Luther King Jr. – the pioneer of the civil rights movement – comes to mind, but also Rosa Parks, Jesse Owens, Jackie Robinson and Barack Obama. We'll be watching documentaries and old speeches, as well as keeping these individuals in our thoughts and prayers.
Citizens was recently named to Forbes 2019 list of America's Best Employers for Diversity. What does it mean to you to work for a company that is committed to diversity and inclusion?
I really loved hearing that news, it meant a lot to me. I think Citizens does an amazing job of fostering a culture of inclusiveness. It's been great to hear and feel the commitment from both leadership and my peers.
When you're not managing your branches, what do you like to do?
I like to spend time with my family. I have a son in college and daughter in high school. In our free time, we like to go to movies, visit museums, watch Broadway shows and hike at local Bear Mountain. We love to travel as well. We took a trip to Italy last year and will be going to Paris in 2019!
Learn about our culture of diversity and inclusion and how we are striving to make our colleagues feel valued, respected and heard.

© 2019 Citizens Financial Group, Inc.