Year Up interns showcase their skills and career interests to Citizens leaders.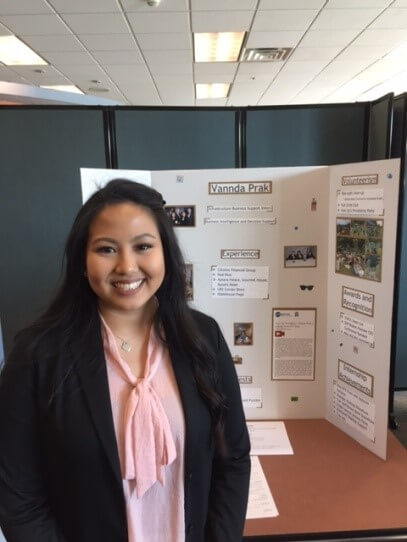 Citizens Banks' commitment to supporting the local community is demonstrated in many different ways and with many different organizations. One unique partnership is with Year Up, a program that empowers low-income young adults to transition from poverty to professional careers.
Year Up offers opportunities for young professionals, mostly 18-24 year olds from urban areas, to gain both classroom training and on-the-job experience with various businesses in the local community. Year Up students train in the classroom for six months within the areas of business operations or information technology and upon completion, begin the internship phase for the next six months at a local business, like Citizens Bank. In addition to the internship program, the partnership offers Year Up students an opportunity to participate in resume reviews, mock interview sessions and mentorship pairings with Citizens colleagues.
Citizens and Year Up have greatly benefited from the partnership, formed in 2006, with over 90 Year Up professionals getting hired into permanent roles in the bank since the program inception. In 2017, the Citizens Bank Charitable Foundation gave nearly $250,000 in grants to non-profit organizations serving those in need across the communities served by the bank. One of these organizations was Year Up (awarded a grant of $30,000), which in the Greater Boston area alone will serve an impressive 560 young adults through various education programs in 2017.
Mary Schwarz, Head of Governance and Standards at Citizens and Program Lead for Citizens' partnership with Year Up, comments, "As I reflect on what made 2017 such a special year for the program, I am particularly proud of the work our team has done. We achieved continued growth for Year Up, and our successes include hosting 28 new interns, growing to a multi-state intern program and becoming the leading corporate partner for Year Up Providence. Citizens Bank is indeed making strong gains in closing the opportunity divide with the Year Up Program and 2018 will offer new opportunities for some very deserving young urban adults."
In an effort to engage our Year Up interns even more, Citizens sponsored its second annual Year Up career fair in Cranston, RI. Attending the fair were 10 Year Up interns at Citizens, as well as over 30 Citizens leaders and recruiters from consumer operations, loan specialty operations, data services and other business lines throughout the bank. In a reverse format from a traditional career fair, each intern set up a booth that highlighted their professional experience, education, community involvement and details about the internships they had.
The career fair allowed Year Up interns to meet leadership and showcase the skills they developed from their internships and class experience. "The best part about this event was watching my colleagues prepare their tri-fold boards and show their creativity to recruiters and hiring managers," says Year Up intern Jennifer. "Not only am I now able to include this great experience in my resume but I now have a bigger network and increased skills that are transferable to any position."
For leaders and recruiters across the bank, it was an exciting opportunity to meet impressive new talent. Many of the interns walked away from the career fair with interviews scheduled for full time opportunities at Citizens.
Discover a culture active in the community and committed to building a diverse workforce of professionals.