Early career associate, Jennifer, embraces "Plan to Win" challenge and new learning opportunities.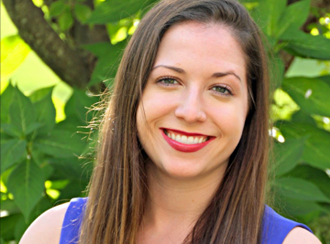 Jennifer began exploring potential career paths while she was working on her MBA at the University of Rhode Island. As she networked, former classmates from Bryant told Jennifer about a new Consumer Banking Leadership Program at Citizens Bank for recent graduates. The program includes 4 three- month rotations across various Consumer Banking areas.
"The program sounded like an exciting opportunity for me to gain a well-rounded experience so I decided to apply", adds Jennifer. In June, 2016, with a new MBA degree in hand, Jennifer started the Consumer Banking Leadership Program with her first rotation in Digital and Multi-channel Marketing, followed by rotations in Deposit Operations, Retail branch roles and finally, Consumer Strategy.
One of the advantages of being an associate in a Citizens Bank's early career program is being a part of the Early Career Program cohort. This includes monthly meetings in Boston and Providence with guest speakers to learn about the bank, the Citizens culture and early career growth opportunities.
The program associates participate in the "Plan to Win" challenge. Associates from a variety of early career programs are placed on teams to develop a project related to human resources or consumer banking. Jennifer worked with seven other early career colleagues to develop a consumer strategy to encourage customers to leverage mobile technology and ATMs for banking transactions.
"We did a lot of research for this challenge, meeting with Citizens colleagues at all levels and in many different areas of the bank. I'm so impressed by how welcoming and helpful everyone at the bank is, especially to early career professionals who are eager to learn", adds Jennifer.
Jennifer and her teammates embraced the opportunity to collaborate and explore different ideas. They presented their recommendations to a panel of Citizens leaders, which included mobile app training on tablets within the branches, a campaign to educate consumers about the safety of mobile technology and a contest to encourage ATM use where consumers could win $1,000 for depositing a check.
Jennifer concludes, "Citizens has been such a great fit as the culture really stands true to our credo of serving customers, working collaboratively and getting involved in the community. The early career programs are an amazing opportunity to expand your knowledge and skills to develop your career".
Learn how you can jumpstart your career and gain hands-on experience as part of our early career programs for recent graduates.
© 2016 Citizens Financial Group, Inc.