Colleagues and leadership unite through Let's Connect program.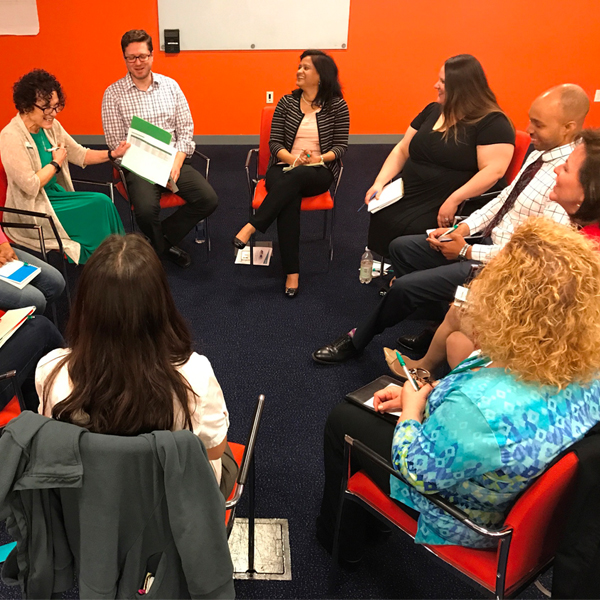 Since its launch in 2015, our Let's Connect program has welcomed over 7,000 colleagues to more than 500 in-person sessions that are hosted by members from our Executive Leadership Group. It's one of many ways in which Citizens fosters a culture of collaboration, idea sharing and engagement at all levels of the organization.
The Let's Connect program provides an opportunity for colleagues to hear more about Citizens long-term strategy of growth and innovation while providing colleagues a forum to raise questions, voice concerns and share what's on their minds.
Throughout the year, colleagues are randomly selected to attend these in-person meetings hosted by senior leaders across our 13-state footprint. The contributions from everyone in attendance are critical to the success of these meetings. Session topics vary, such as how we are investing in technology, what we are learning from the Organizational Health Index (OHI) and why we focus so much on our customers.
"Colleague engagement is a huge priority for senior leadership and they are working to ensure that the voice of each person is heard", says one Let's Connect attendee. Feedback continues to be strong with ninety-seven percent of colleagues who attended a session saying they would attend another Let's Connect meeting in the future, if given the opportunity.
The program recently earned finalist honors in the Leadership and Management category at the Corporate Executive Board's annual global communications awards.
Following a recent Let's Connect session, a participant concluded, "I now have more insight into the positive changes taking place at Citizens Bank. I felt my voice has been heard and that changes are being implemented".
We are on an exciting journey to becoming the best performing bank for our customers, colleagues, communities and shareholders. The Let's Connect program brings us steps closer to this goal by encouraging thoughtful conversations and new ideas from our most valuable asset – our colleagues.
Learn about the wide array of career paths we offer as part of our team-oriented culture.