Making it better, easier for our colleagues and our customers.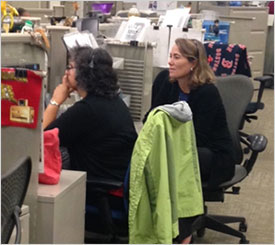 Striving the get better as a company is something we weave into our day to day business and at all levels of the organization. Members of our Executive Committee often meet one-on-one with colleagues to better understand what is working on the frontline of our customer service efforts, and where there may be opportunities to improve – from both the standpoint of the customer and our colleagues.
Chief Marketing Officer and Head of Consumer Strategy Beth Johnson sat alongside Sue, Contact Center advocate on the Immediate Customer Response (ICR) team. Sue and her team wear multiple hats taking calls from Contact Center agents or branch colleagues who need help with account clarification questions or gaining access to a system.
They are also responsible for handling escalated customer calls. "When colleagues have a question that they need help with when they are on the phone with customers, they call us," said Sue who normally handles 30 to 40 calls each day.
Beth listened attentively to Sue take multiple calls from agents to better understand the systems and processes used to support our customers. "We need to continue to find ways to make it easier for frontline colleagues to better serve our customers," Beth commented.
In addition to system ease and efficient processes, another key to serving the customer well is training. Newly hired ICR colleagues are now paired with senior members of the team to gain a strong understanding of the products and services available in all states. They listen to calls for two weeks to learn the types of calls they will receive and where to find the answers, before taking their own calls. The following two weeks, a senior member of the team "nests" with the new hire, listening to the call and providing guidance, when needed. "It's all about learning how to keep calm, use a positive tone of voice and offer to help," Sue explained.
Following her time with Beth, Sue shared, "It's great our leaders are trying to understand how things work and getting our input on how to make it better."
Discover how our collaborative workforce and supportive culture can help you develop a rewarding career in customer service as part of our Contact Center team.
© 2017 Citizens Financial Group, Inc.