How Jillian Broskey is Navigating Her Early Career Journey
From Retail Banker to Professional Marketer and Beyond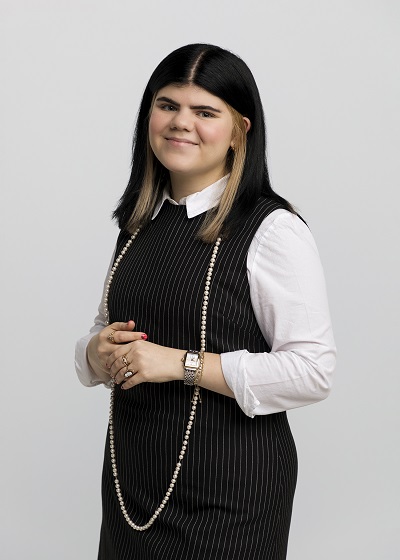 Jillian Broskey has always liked to plan ahead.
That's why in 2018, during her sophomore at Temple University, she set her sights on an important goal – to gain meaningful, part-time employment in college to get a head start in her career after graduation.
That goal would lead her to where she is today – at Citizens.
"I landed a position at a local branch near school," she shares. "It was the perfect move, giving me the opportunity to learn about financial wellness and start building a network of professionals."
Since then, she hasn't look back – in fact, she's only looked upward.
Transitioning to a rewarding career in the real and corporate world
When she finally graduated from Temple in 2021, she knew exactly where to turn to make the transition from the part-time retail world to a corporate career in her chosen field of study, communications.
"Citizens is so vast – there were so many opportunities."
There were also so many Citizens colleagues eager to help her along the way.
"My recruiter told me, 'I believe in your resume. We're going to find you the right position.'"
She also had support from management at her job in the branch.
"I had a very frank conversation with my manager and regional manager, letting them know my trajectory and where I wanted to be," she adds. "They provided invaluable advice to guide me. They were just so invested in my success."
With their support, she was able to accomplish the goal she set as a college student – a corporate position as a marketing partner.
She still can't believe it.
"It's been a couple of months and I feel like I'm in a 'pinch-me-I'm dreaming' moment," she gushes.
But her happiness in her role hasn't stopped her from continuing to do what she's always done – planning for future opportunities and growth.
She even has the support of her current manager for that.
"My manager already asked me, 'Where do you see yourself? Where do you want to be?'" says Jillian." I love that Citizens has tools and really listens to their colleagues about what they want."
She knows that when she's ready to move forward, Citizens is ready, too.
"As of right now, my biggest goal is to just keep learning and growing, and hopefully, excelling to different positions with the company."
She also knows that she's gotten a lot more from working at Citizens than just a great career start; she's gained financial literacy and independence to help her achieve other goals outside of work.
"I plan to buy a home within the near future," she proudly shares. "When I started back in college, I had no idea all that was available to me here at Citizens."
Are you looking to continue your career journey with a company made ready to support your unique career aspirations?