Grace kicks-off a career and a passion for volunteering with her colleagues.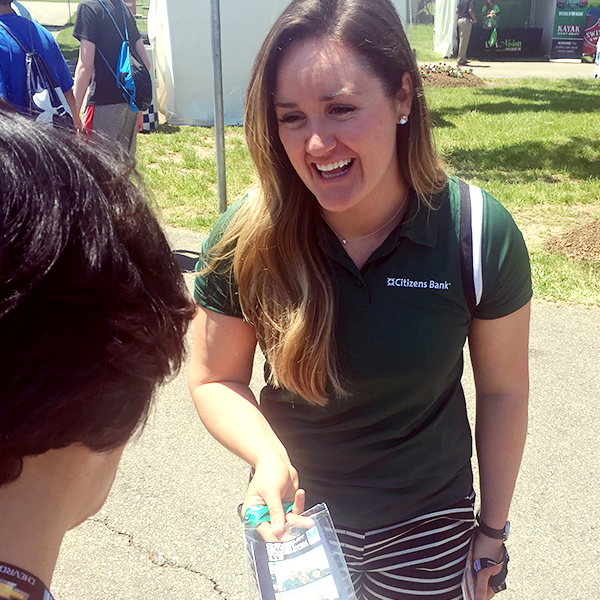 We sat down to talk to Grace, a Commercial Banker Development Program (CBDP) graduate, about her role as a Community Captain (local volunteer leader) at Citizens. Grace completed the 12-month CBDP program and left with a unique understanding of both the technical knowledge of accounting and credit analysis as well as a desire to make an impact in the community. Now as an associate relationship manager in national sales management, Grace has brought her passion for volunteering to her office building and helped other eager colleagues become involved with the many service opportunities available in Michigan and Metro Detroit.
How did you become so involved in the community?
During my three month rotation in Michigan as part of the Commercial Banker Development Program, I was inspired by the dedication to service that exists in Metro Detroit. The volunteer opportunities and organizations in Metro Detroit were a big part of my decision to move to Michigan! It was a pleasure to be named Community Captain – especially being on a team that is already so engaged in the community. We had great success in our community efforts last year and have a lot of exciting ideas in store!
Why is volunteering important to you?
It's important to take a step back and look at how you fit into the bigger picture. We are only as strong as the communities in which we live. Working for an organization like Citizens Bank that supports this belief is crucial. And volunteering together not only strengthens communities, it's great for team building.
Personally, one of my favorite things is to discover service opportunities in daily life and devise ways to meet those needs. For example, this October my dad was working in Afghanistan and noted that a local orphanage was in need of shoes. Our Citizens team banded together and ended up sending 117 pairs of shoes! Many service opportunities present themselves all the time – it's just a matter of discovering creative ways to find a solution.
What advice would you give to colleagues interested in volunteering in their community?
Match the causes you are passionate about with organizations that support your values. It is rewarding to serve alongside like-minded individuals working toward a common goal that you all believe in. Also, try something new - don't be afraid to step out of your comfort zone and volunteer with organizations you aren't as familiar with!
Tell us a bit about yourself.
I am an avid traveler, amateur hiker and ardent coffee-drinker. This March I backpacked Southeast Asia and am in the process of planning a cross-country road trip. It's a long-term goal of mine to visit all 59 national parks.
Learn more about how our Early Career development programs can open the door to a career at a company that is committed to giving back.