A-List treatment for exceptional Credo Champion colleagues.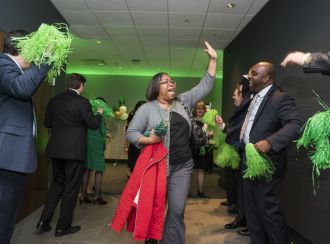 Colleague recognition is engrained in the Citizens culture, thanks in large part to our Credo Award program. This unique colleague recognition program offers an easy and meaningful way for leaders, managers and peers to recognize colleagues for going above and beyond in living our Citizens Credo.
Each year, we honor our Credo Champions at a special event, this year held at Gillette Stadium, home of the New England Patriots. The "top honors" event recognized 275 colleagues who demonstrated an exceptional commitment to our customers, colleagues, communities and shareholders. These colleagues were selected by their business leaders from the Credo Honor Roll to be Credo Champions.
Our Credo Champion colleagues, like Camilla, Senior Line of Business Analyst in Consumer Banking, go above and beyond every day. "As a first time winner, I didn't know what to expect but I quickly saw that Citizens truly values the hard work of their employees by making us all feel incredibly special", recalls Camilla.
Credo Champions were given the red carpet (or green carpet at Citizens!) treatment from the moment they arrived. More than 30 senior leaders welcomed Credo Champions with green pom poms. Like any A-List celebrity, these "Champs" were treated to an exclusive tour of the stadium to see where sports champs and other VIPs roam during game time.
Every detail was thought through and given special attention from the food, the transportation, and even the large outdoor screen at the entrance of Gillette that said "Welcome Credo Champions". Camilla adds, "When we arrived, everyone was saying, 'Congratulations', including Bruce Van Saun, Chairman and CEO and his direct reports. I didn't expect such a warm welcome!"
For Camilla, one of the most memorable moments of the night was when her name was announced as an Annual Chairman's Credo Award Winner, the highest level of Credo recognition presented to 10 exceptional colleagues. She comments, "It's something I will never forget. I stepped away to freshen up, when one of my coworkers came running to tell me that I won. I quickly went right to the stage to accept the award from Brad Conners, vice chairman of Consumer Banking and Bruce Van Saun".
At the end of the night, Camilla left thinking, "How do I get to do this again?" The entire night focused on making recipients feel very special in the hopes of creating a truly amazing experience they will never forget. Mission accomplished!
Be part of a growing financial institution that values and recognizes the great work of its colleagues.