Carrie finds a path to a degree and a rewarding career with Citizens.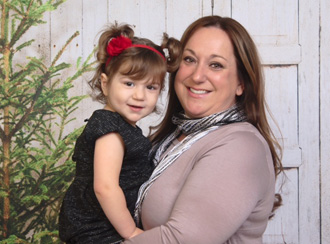 Branch Manager Carrie's story is a great example of how we invest in the career development of our colleagues, to support their personal and professional aspirations.
Carrie joined Citizens in 2002 as an in-store banker at a Warwick, RI Stop & Shop supermarket branch. She was working hard, performing well in her role and enjoying her work when her manager suggested they sit down and talk. "My manager told me I should consider going back to school to finish my degree. She told me about Citizens' educational assistance program and all its benefits", recalls Carrie.
Carrie and her manager discussed her career path at the bank and the importance of having a bachelor's degree to further her career. She comments, "I realized that I needed to increase my knowledge of the entire financial industry to be well-rounded, set myself up for the future and be successful for my daughter".
Carrie, who received her associate's degree more than a decade ago, looked into heading back to school. With support from Citizens' educational assistance program, which helps qualified colleagues pay for tuition, fees and books, she enrolled in online courses at Johnson & Wales University in Rhode Island.
"I didn't know how I would be able to spend time with my family and friends, tuck my daughter into bed at night, and do my job while having to show up for class at specific times – without losing my mind! With Johnson & Wales' online learning program, I was able to do homework late at night and early in the morning, and log-in anytime regardless of where I was", adds Carrie.
By August, 2016, Carrie completed her studies and earned a B.S. degree in business. Today, Carrie is thriving at Citizens, working as a branch manager and proud to have her bachelor's degree in hand to support her career growth.
She shares her story with others interested in earning a degree but feeling overwhelmed, saying, "Going to college can be a huge financial burden on a family. It's hard to convince yourself the tuition costs will pay off. Without Citizens' program, I don't know if I would have been able to go back for my bachelor's degree".
Learn more about our career paths and the exceptional benefits we offer our colleagues, to help them feel supported in many aspects of their lives.
© 2016 Citizens Financial Group, Inc.