For Heather, head of Consumer Loan and Specialty Operations, diversity is about leveraging the power of many perspectives.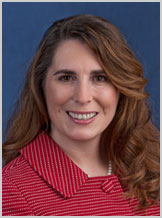 At Citizens, Women's History Month is a time to reflect on the generations of bold, courageous women who came before us and the ones that help lead our organization today. Our women leaders apply their experiences and thoughts on diversity and inclusion to positively impact our business performance and company culture.
Heather, head of Consumer Loan and Specialty Operations, leads more than 400 colleagues and serves as a leader within our women's related Business Resource Group.
What is your role at Citizens and how do you serve our customers?
Loan and Specialty Operations (LSO) consists of more than 400 colleagues located primarily in Rhode Island, with smaller concentrations in Connecticut and Virginia. We provide loan servicing for auto, unsecured, student and home equity products. Our team also leads operations centers of excellence for both Collections & Recovery and Consumer Accounting. LSO supports Consumer Banking by delivering an exceptional customer experience while minimizing losses, streamlining our processes and maintaining regulatory compliance.
What does diversity mean to you personally and as a colleague?
Diversity means recognizing, understanding and appreciating the differences we have from others whether it is in how we think, where we live, our backgrounds, or in the infinite number of other ways that difference can be defined. As an organization, whenever we leverage the power of many different perspectives, we realize the value of those differences and deliver outcomes that are collectively better than any achieved individually. The saying that 'the whole is greater than the sum of its the parts' is a good analogy for the power of harnessing diversity.
What advice would you give to a colleague considering joining a BRG?
Do it now! Having led groups like this in other organizations, I have personally experienced the growth and development that colleagues realize when they step out of their day-to-day to participate. The BRG allows colleagues to network and interact with people they never would meet otherwise. It helps them gain valuable professional skills while planning events and activities for the BRG. And, it provides a safe space for growth outside of normal job responsibilities.
What do you do when you're not in the office?
I have two small children, Stephen (age 6) and Madeleine (age 4). My joy in life is spending time with them and my husband, Sean. We have a big extended family and spend a lot of time hosting or attending family gatherings. Our house is often the central gathering point for family parties of 60-70 people.
Discover more about our culture - driving positive change for our customers, colleagues, communities and shareholders.