Meet Maria, head of Consumer Banking Risk and chair of our Women's Business Resource Group.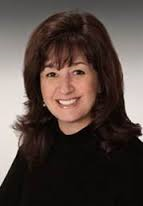 The Business Resource Group (BRG) initiative at Citizens selected Maria, head of Consumer Banking Risk to lead the Women's BRG. The BRGs (focusing on women, LGBT and multicultural colleagues) serve as a platform to give colleagues an opportunity to help drive our business agenda, improve the company culture, and continuously improve the colleague and customer experience.
Maria explains how leading the Women's BRG is an exciting opportunity to advance our women colleagues while positively influencing the communities we serve.
Describe what you do at Citizens.
I came to Citizens in November, 2004 and lead Consumer Banking Risk. Our mission is to assist management in identifying and mitigating key risks in order to influence decision making, so that risks are understood and appropriately managed.
Why was it important for you to be a BRG chair?
The creation of Business Resource Groups (BRGs) is a significant step forward for Citizens. Over the past several years, there have been number of grassroots programs created to focus on the development of our women leaders. With this new bank-supported initiative, we will be able to integrate and expand on these efforts in a manner that aligns with our credo – impacting how we support the career development and advancement of our women colleagues, while also serving our customers and positively influencing the communities we serve. There was a lot of positive energy in our kick-off meeting and I am personally eager to hear from our members, as we collectively define our mission and priorities start having a real impact.
What was your very first job?
My very first job was as an ice cream scooper! As I started my career, my first real job was as a financial planner.
What makes Citizens a special place to work?
When I think about the 10-plus years I have been at the bank, I am amazed by the amount of transformation that has taken place. While it can be challenging, we keep getting better and stronger – and there is so much opportunity to learn and grow in an environment focused on continuous improvement. And of course, our colleagues drive and deliver that change with a passion. It is a privilege to work with so many smart and dedicated people focused on doing the right things for the right reasons.
How do you spend your time outside of work?
Time away from work is spent with family and friends. I enjoy cooking a big meal, gardening, running, biking and boating.
Tell us your favorite quote.
I always liked the Thomas Jefferson quote "I'm a great believer in luck. The harder I work, the more luck I have." My 9 year-old, however, has recently inspired me with her favorite quote from the Harry Potter series. "Happiness can be found in the darkest of times, if one only remembers to turn on the light."
Discover how we empower all of our colleagues to unveil their own unique potential.