Proud to support our colleagues who are building or adding to their families through adoption.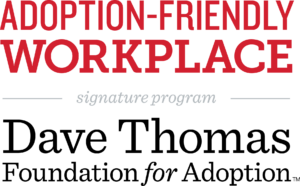 Adoption is a joyous event for new families but can be a stressful and expensive process. Providing generous adoption benefits is part of Citizens' commitment to offering work/life programs that support our colleagues. Our combination of financial assistance and adoption leave makes the process just a bit easier.
For the seventh year in a row, we are pleased to be named to the annual list of the 100 Best Adoption-Friendly Workplaces by the Dave Thomas Foundation for Adoption. This is the eleventh time that Citizens has been named to the list. We ranked third overall among financial service companies and seventh overall among all companies recognized by the foundation. Rankings are based on a company's adoption benefits, specifically the combination of financial assistance and paid leave offered to those who adopt.
"Our adoption program is a key benefit that makes Citizens a great place to work, and we are grateful to the Dave Thomas Foundation for once again honoring us for these efforts," said Susan LaMonica, Chief Human Resources Officer. "We're proud to be able to support our colleagues during such an important life event."
Our package includes up to $23,400 toward eligible adoption expenses and fees, and up to one week of paid time off per adoption. Benefits are available for public and private agency adoptions, independent adoptions, and domestic or international adoptions. And for our customers, we provide financing solutions for families who plan to adopt through a partnership with the National Adoption Foundation.
"This award is significant to me personally, both as a long-time board member of the Dave Thomas Foundation and as an adoptive parent," comments Brad Conner, Vice Chairman and Head of Consumer Banking. "Our adoption program helps families come together and I'm thrilled its impact is recognized by such a great organization."
Created by Wendy's® founder Dave Thomas, who was adopted, the Dave Thomas Foundation for Adoption is a national, non-profit, dedicated to finding permanent homes for the more than 150,000 children waiting in North America's foster care systems.
Learn more about the many ways in which we strive to do more for our customers and colleagues each day.
© 2018 Citizens Financial Group, Inc.